Our Facility
The island-style residence is affectionately described as "homey" and comfortable
Located on the westernmost point of the Big Island, Hawaii Island Recovery is a haven for travelers on their own incredible personal journeys. We are a primary substance use rehabilitation facility located on a beautiful coastline that stretches from the Pacific Ocean up to the climbs of Mount Hualālai. At a comfortable elevation, it affords spectacular ocean views from the spacious lanai and living areas of the island. It is a transitional scene; one where the sea becomes land and land becomes mountains. It is a beautiful metaphor and reminder of the work we do here: helping people transition into a new life of recovery. Called "homey" by our affectionate alumni, the house is surrounded by lush, tropical landscaping and an abundance of fruit trees.
A Beautiful Setting for a Life-Changing Mission
In a land of black sand beaches, clear water, and cool mountain hikes into the clouds, we are blessed with a natural environment that is alive and vibrant. It's nothing short of a healing balm for a weary spirit. With each sunset, or Napo'o ka la, we can't help but feel gratitude for our island home. It is a truly unique and empowering place to recover and discover oneself.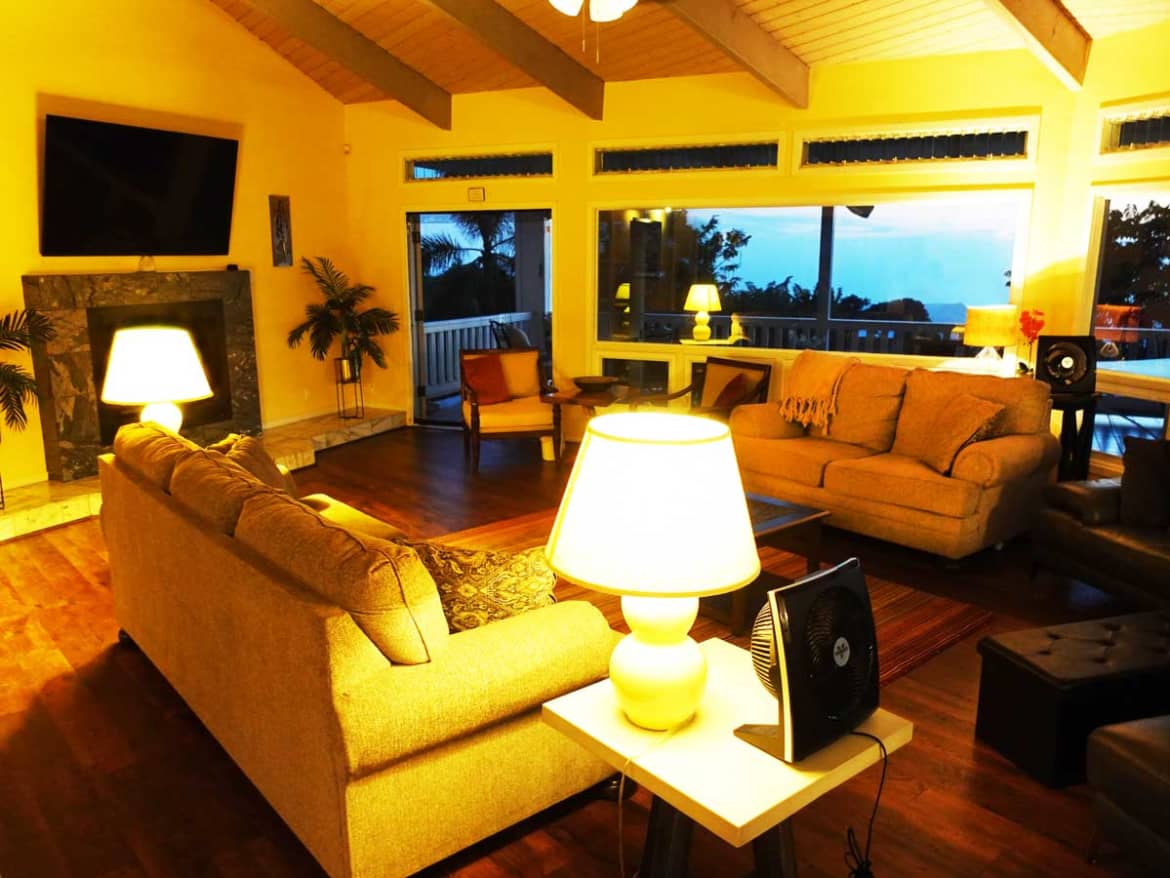 We move our feet, both in recovery and in the world. Getting out and hiking through the many one-of-a-kind landscapes offers experiences that cannot be replicated and should not be missed. The change that comes from the hard work of making a new life, one day at a time, is complemented by images of waterfalls, jungles, and sacred Hawaiian monuments. Ever respectful of the environment, we're sure to take only our memories and leave only footprints in green sand.
Our facility is perfectly sized for our needs. Hawaii Island Recovery strives to provide our patients with all the comforts of home in a supportive living environment to foster lasting personal development. In between group sessions, you may find yourself relaxing or playing games in the shade on the porch, rolling out the yoga mat on the soft green grass of the campus, or going for a quiet walk beneath palm leaves and the fruit trees.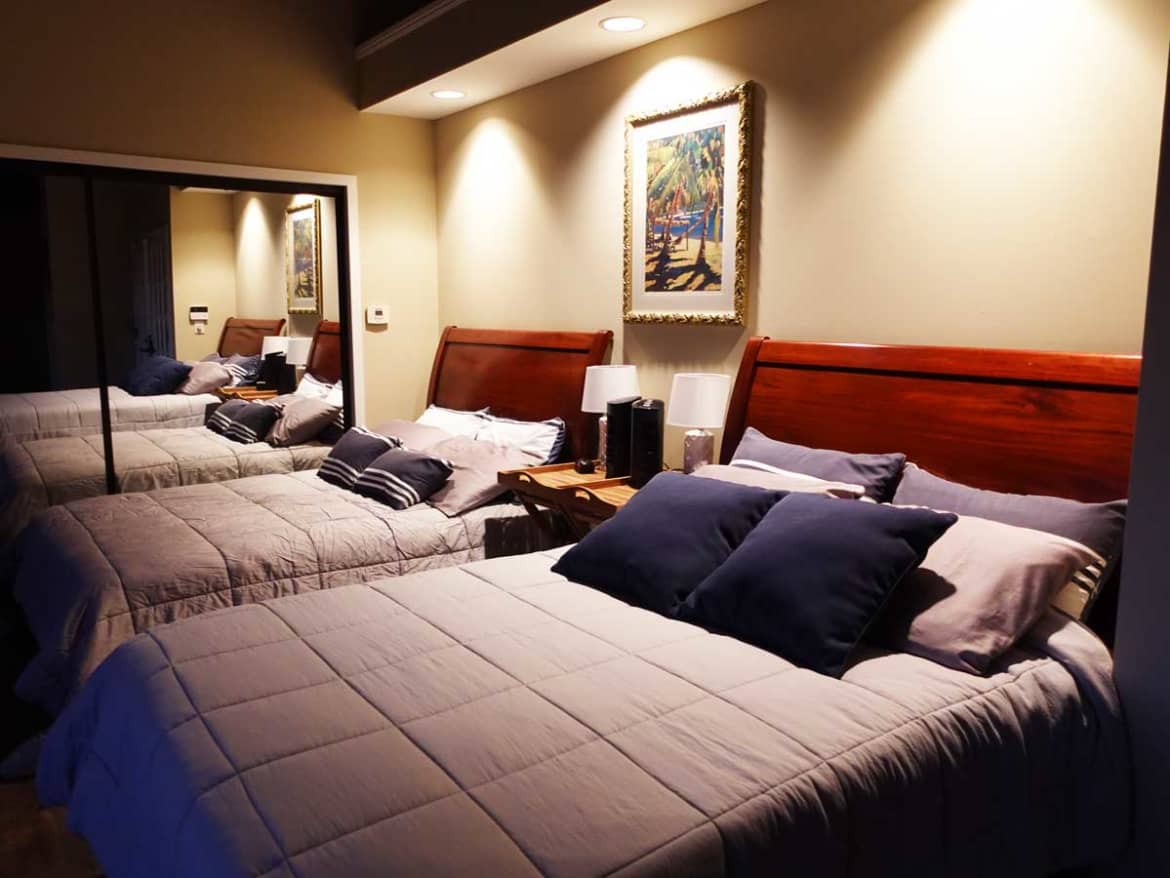 The kitchen is the heart of the home, where our chef lovingly prepares exquisite, healthy meals. Fresh seafood and local fruits and vegetables make for cuisine that tastes even better than looks. Whenever possible, we source our food locally. In addition to supporting our island community, a healthy diet and a clear mind go hand-in-hand. Patients with special dietary concerns can rest assured that we will make any necessary accommodations. Our chefs are skilled in making phenomenal meals even with any number of dietary restrictions.
Medical Support You Can Trust
With expertise backed by years of training in specialized care, we provide medical, mental health, and therapeutic services for the treatment of substance use disorder (SUD) and co-occurring mental conditions such as depression, anxiety, and post-traumatic stress disorder (PTSD). We make accommodations for a wide range of conditions with our dedicated medical and nursing staff.
At admission, patients are assessed by our Medical Director. From there, we will work together to create a treatment plan that is designed specifically for you, your needs, and your symptoms. We employ the expertise of a board-certified addictionologist, also known as an addiction medicine physician. As highly-trained specialists in the field of addiction medicine, they are uniquely equipped to assess your needs. From detox to medication management, our clinical team is there to help patients at any stage. We offer detoxification that is risk-free and focused on your comfort. Highly trained medical professionals manage the detox protocol, and the nursing staff is there to lend a hand, day and night.
Above all, the purpose of our facility is to be a resource for our community. Our goal is to serve the needs of anyone who reaches out to us. Our facility provides the perfect level of care for many people seeking our services. We work with potential patients over the phone all the time. We offer detox, residential treatment, and continuing care for those struggling with SUD and related conditions. In the course of our assessments, if it is determined that the acuity of a condition does not meet the capabilities of our facility, we will help you find alternative treatment options that can better address your particular needs.
We are thrilled to be a member of our Hawaiian community. We value our ties with our community and they are actively involved in our healing efforts as well. The Experiential Programming (EP) that we offer helps patients progress in their recovery by using the spiritual practices of native Hawaiians as a springboard. We acknowledge and respect their practices, and we humbly turn to them for guidance on our journey. Together, you will learn about the island's history, its inhabitants, and its spiritual traditions throughout your visit. Without the generosity of these individuals, our program would not be what it is today.
Substance abuse, depression, and anxiety all cast a long shadow on the daily lives of those who suffer from these disorders. When people come to our doors, their spirits and energies are often low. Substance use and addiction can lead to isolation and a loss of direction. We can help you find direction and yourself. You can stand in the sunlight again, and every day we strive to create an environment that promotes rejuvenation. The therapeutic services we offer here at Hawaii Island Recovery give our patients the resources they need to break free from addiction. We work together to heal the wounds of the past and provide guidance as you begin your new journey–from clean to recovered, and from recovery to discovery.
A better tomorrow is possible today at Hawaii Island Recovery in Kona, on the Big Island.