Everything About Prescription Opioids
Last Updated on
Prescription opioids are a type of medication used to treat moderate to severe pain. When used responsibly, they are an important and helpful part of supervised medical treatment plans. There are incredible risks associated with opioids, though, that must be considered when used with a patient.
The addictive potential of prescription opioids is no secret. Thousands of news and journal articles outline the extent of the opioid epidemic in the United States. More than an estimated 130 people die every single day as a result of opioid-related overdoses. People who misuse and abuse their prescriptions put themselves at extreme risk of numerous complications.
You have likely heard about them to some extent but what exactly are prescription opioids? How are they made and how do they affect the people who use them? What makes these medications so addictive? And how can someone with a prescription opioid addiction find help? Continue reading to learn more about prescription opioids.
What are Opioids?
Opioids describes a broad group of drugs including heroin, prescription opioids (painkillers), and synthetic opioids. The substance is found in opium poppy plants and is used for its pain relieving properties. Prescription opioids use the poppy plant itself. Synthetic opioids use a similar chemical structure that was manufactured in a lab.
Dozens of prescriptions fall underneath the opioid category, including some of the popular drugs like:
Oxycodone (OxyContin, Percocet)
Hydrocodone (Vicodin)
Fentanyl
Codeine
Morphine
They are all known for their powerful pain-relieving and body-relaxing effects. Opioids also cause feelings of euphoria, a "high" that makes them popular for recreational use. People who use opioids non-medically put themselves in danger of developing a substance use disorder.
A Definition of Opioids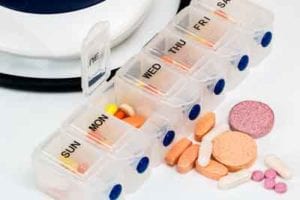 Prescription opioids are used to relieve discomfort and pain in patients, usually as a part of an overall treatment plan. Responsible doctors keep a close eye on those who receive opioid prescriptions because of their high potential for addiction. They should always be used on a short-term basis and replaced with a non-narcotic medication as soon as possible.
Some people who receive a prescription for opioids find themselves misusing the drug without ever meaning to. Opioids work by attaching to opioid receptors in the brain which are responsible for the sensation of pain. The body quickly develops a tolerance to these drugs, though. This means a person needs more of the drug to achieve the same effect.
For example, they might go home with the direction to take one pill every four to six hours. After taking this dosage for a week they may notice the pain relieving effects aren't as strong. This encourages some people to take two pills instead of one in order to achieve the same level of pain relief.
It might seem innocent enough at first but this choice could be life-threatening. Misusing prescription opioids is a steep slope that lands many people in a using cycle they never imagined possible.
What Are Opioids Made Of?
Opioids are a substance derived from the pods of a poppy plant. It is a naturally-occurring substance that is harvested and used to create numerous types of drugs, from FDA-approved prescriptions to heroin.
There are two types of opioids used in medicine. One type uses naturally-occurring opioids and the other uses a synthetic opioid structure created in a lab. For example, morphine is made directly from the poppy plant while fentanyl is made from a synthetic opioid structure.
Both types of opioids have a high potential for addiction. They both interact with the brain's opioid receptors which limits their reception of pain messages. Whether they're natural or synthetic, opioids can kick off a dangerous pattern in even the most unsuspecting person.
OxyContin, Vicodin, codeine and morphine are all examples of natural opioids. Fentanyl, tramodol, and methadone are all examples of synthetic opioids.
Chemistry of Opioids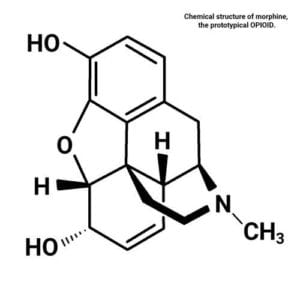 Synthetic opioids are manufactured to closely resemble the composition of natural opioids. This means both prescription opioids and synthetic opioids are chemically related. They interact with and activate opioid receptors in cells throughout the body. Opioid receptors are responsible for the perception of both pain and pleasure. They are located in parts including:
Brain
Skin
Spinal cord
Immune cells
Gastrointestinal tract
When opioids bind to the body's opioid receptors, they activate the receptors and block the pain signals sent to the brain. They also release significant amounts of dopamine, the "feel-good" chemical in the body. The result is an overall feeling of lightness, numbness, and overall euphoria.
The physical effects of the drug are one factor but this psychological response is what makes opioids so addictive. Some people find themselves chasing after this calm high from the first time they misuse opioids. They crave the carefree world of an opioid high that settles in once those opioid receptors are activated.
Why Are Prescription and Synthetic Opioids Different Than the Body's Opioids?
Opioid receptors exist because the body produces natural opioids as part of the bodily system. What is it that sets prescription and synthetic opioids apart from the body's naturally-occurring opioids, though?
A study from UC San Francisco revealed a possible reason for the addictive potential of these drugs. Naturally-occurring opioids bind to the surface of nerve cells in the body. Prescription and synthetic opioids, on the other hand, attach to both the surface of the cell and receptors within the cell as well.
According to the study, this extra level of attachment could explain why the external opioids produce a more rewarding experience. The body can't replicate this feeling naturally so they continue seeking the secondary level with the use of opioids.
Street Names and Nicknames for Opioids
There is a wide range of street names for opioids because the drug class covers a range of substances. Oftentimes people refer to the drugs by their names, depending on the type of pills they're looking for. Still, there are nicknames for various opioids that some people use.
Codeine
Lean
Purple Drank
Sizzurp
Loads
Pancakes and Syrup
Cody
Captain Cody
Fentanyl
China White
China Girl
Dance Fever
Apache
TNT
Friend
Hydrocodone (Vicodin)
Hydromorphone (Dilaudid)
Dillies
D
Footballs
Juice
Smack
Meperidine (Demerol)
Demmies
Methadone
Amidone
Fizzies
Morphine
White Stuff
M
Miss Emma
Monkey
Oxycodone (OxyContin or Percocet)
Oxy
O.C.
Oxycet
Oxycotton
Hillbilly Heroin
Percs
Oxymorphone (Opana)
Blues
Blue Heaven
Mrs. O
O Bomb
Octagons
Stop Signs
Biscuits
Call for Opioid Addiction Treatment Options
Hawaii Island Recovery 24/7