About Hawaii Island Recovery
With a maximum of 8 patients, Hawaii Island Recovery is committed to providing patient-centered care. Read more about Hawaii Island Recovery.
Welcome to Hawaii Island Recovery, the premier treatment center on the Big Island of Hawai'i. At our home in the Pacific Ocean, we forge new life every day. If addiction to drugs or alcohol has you or a loved one needing to reach out for help, we have the solution. If you're looking for freedom from substances and related mental conditions, we have an integrated program that will suit your needs. We know what works.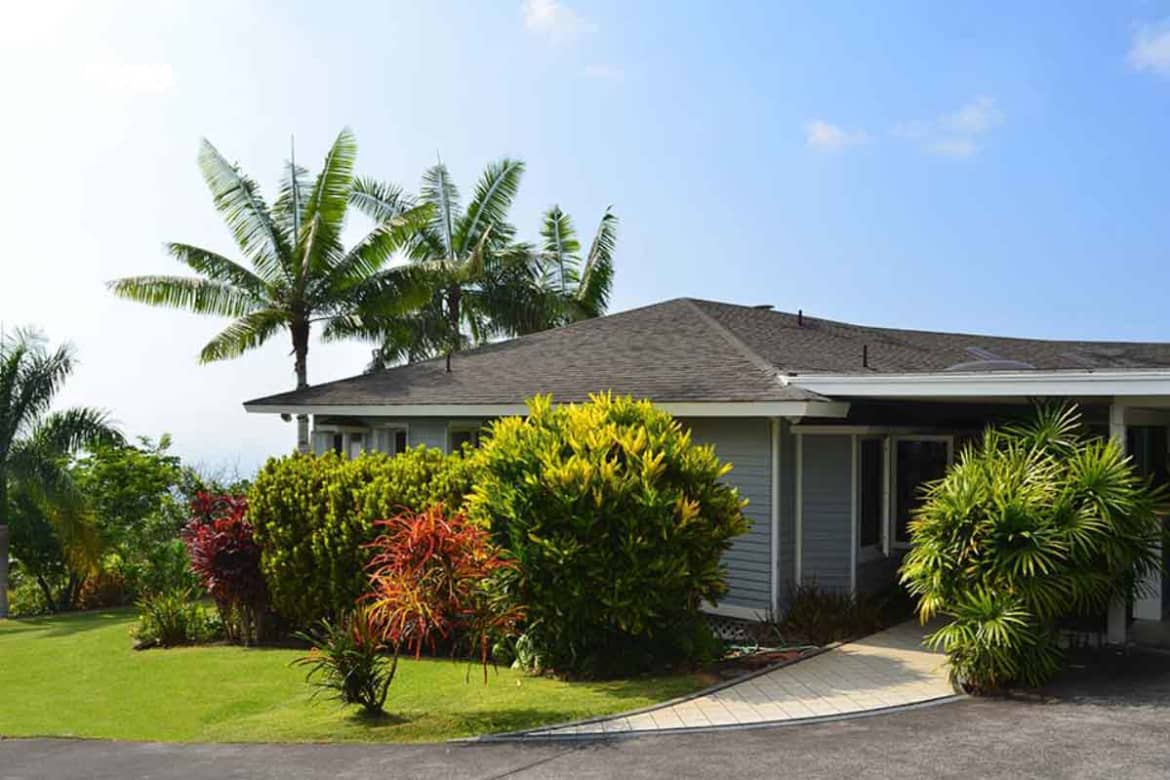 Combining expertise with years of experience, we create a successful treatment model that works regardless of your circumstances. We use evidence-based treatment methods to bring cutting-edge and time-tested approaches to recovery and healing. At Hawaii Island Recovery, individual therapy is woven into a support system that maximizes recovery and promotes exceptional outcomes. With a maximum of eight patients at a time, Hawaii Island Recovery is committed to providing customized care that centers around each patient.
Hawaii Island Recovery knows that recovery is possible for every person with a substance use disorder or addiction. No matter how broken you may feel, how many treatment attempts or relapses you've experienced, the potential to recover from the disease of addiction exists for everyone. Regardless of what shape the path takes to get here, experiencing a change in direction is possible for every journey.
The Hawaiian Spirit Law "Aloha" is the arrangement and cooperation of mind and heart within each person. It provides self-discovery for each person. Thoughts and communication are focused on the greater good–for both oneself and the community. It means mutual regard and affection and extends warmth in caring with no expectation of return. The spirit of Aloha is our mantra. It is a perfect fit for our mission as a program and the change we hope to encourage.
Hawaii Island Recovery provides our patients with cutting-edge, evidence-based treatment in an intimate, patient-centered environment that fosters the healing of mind, body, and spirit. With a maximum of eight patients, Hawaii Island Recovery is committed to creating a safe and supportive atmosphere that recognizes that addiction does not occur in a vacuum and often develops as an attempt to cope with the effects of untreated trauma or mental health disorders, such as depression, anxiety, or post-traumatic stress disorder (PTSD). Our treatment team is trained in providing trauma-informed care and our patients are active participants in creating a treatment plan that addresses their unique needs.

The Mission of Hawaii Island Recovery is to provide patients with the best evidence-based treatments available in a safe, comfortable, culturally competent, and supportive residential environment under the care of a highly trained, dedicated, and professional staff. The dedication of the professionals who serve our patients is unparalleled. When participants are motivated for change, anything is possible. We are proud to have such an extraordinary team with which to serve individuals in need.
In addition, Hawaii Island Recovery believes in a workplace that supports the staff's personal and professional growth and promotes the growth and success of our company. As such, we take an active part in the processes that bring about meaningful transformations. Our life-saving mission can only be accomplished when we walk with patients step-by-step on their journey to recovery. Setbacks and detours alike can become valuable opportunities for continuing growth and healing when we work together through the critical first year of recovery. When challenges come your way, you'll have support from your case manager, therapists, and sober peers.
We are committed to getting recovery right. That means working alongside patients in those critical first days, weeks, and months of rehabilitation offered here at Hawaii Island Recovery. We are with you every step of the way. We believe in treating the whole person, and our comprehensive drug rehab programs give patients the skills needed to lay the groundwork for a sustainable recovery. Participants benefit from a range of different therapies, including individual and group therapy, 12-Step meetings, Eye Movement Desensitization and Reprocessing (EMDR) therapy, nutrition, cognitive-behavioral therapy (CBT), dialectical behavioral therapy (DBT), and neurofeedback therapy. These more traditional treatments complement a host of holistic treatments, such as meditation for mindfulness-based stress reduction (MBSR) and yoga.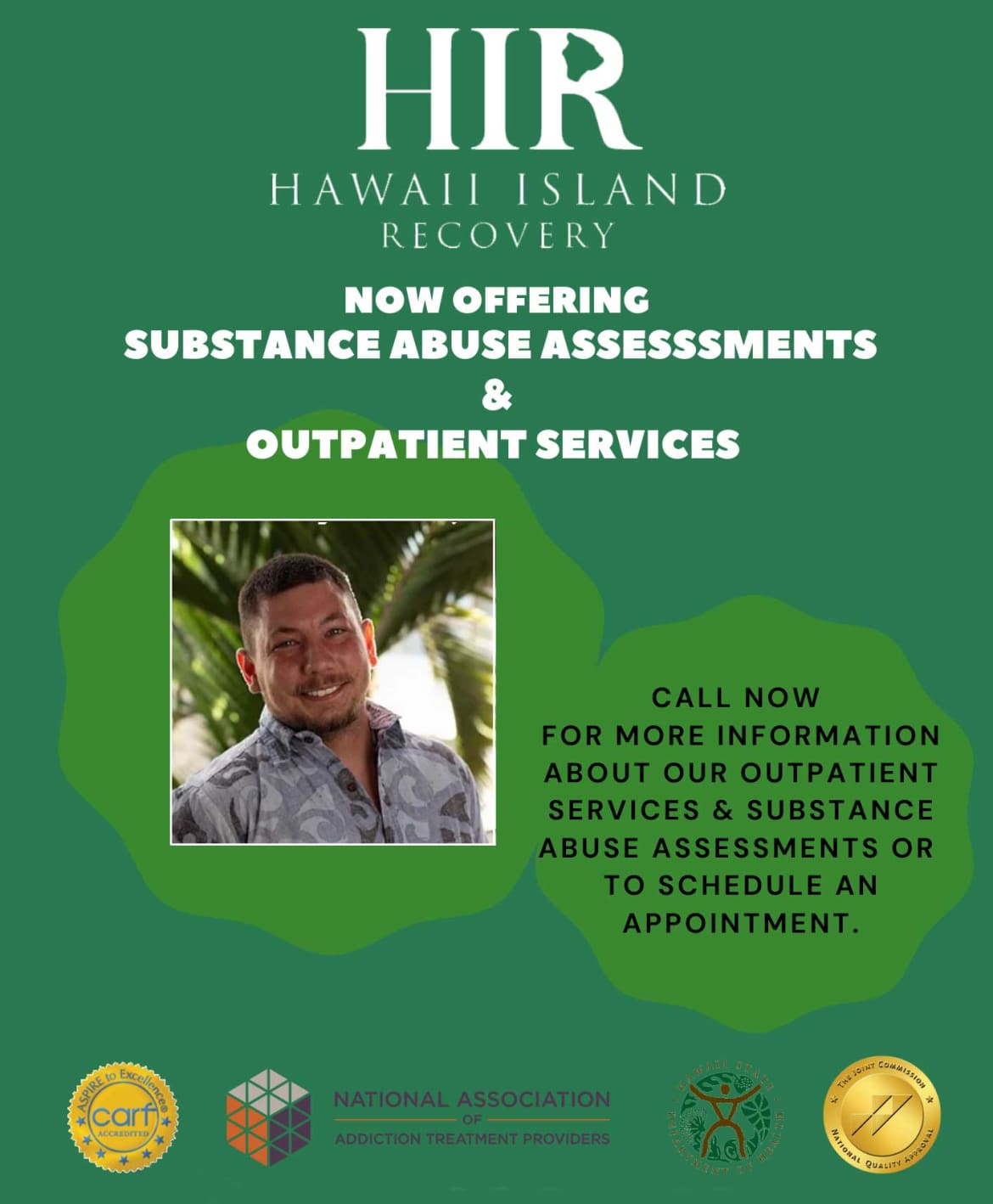 The surrounding landscape is incredible and we love to get out and find empowerment in the natural beauty of Hawaii. Hiking through the many unique terrains offers experiences that cannot be replicated elsewhere and should not be missed. The change that comes from making a new life, one day at a time, is complemented by images of waterfalls, black sand beaches, and sacred Hawaiian monuments. We're always respectful of the environment, so we take only our memories and leave only footprints in black sand. Cultural programming allows patients and staff to learn about their island home and the original culture of the islands. Spiritual leaders are generous enough to join us, providing guidance from their backgrounds as we search to discover our own path.
Serving the Individual and the Community
At Hawaii Island Recovery, we strive to be a community resource. We provide everything to help, whether our patients are from a mile away or across an ocean. We make accommodations for anyone needing additional help, such as supplying medical, psychiatric, nutritional, and even dental support. The key to our success is simple but not easy: Serving the community by tailoring care to one person at a time, one day at a time.
If you or a loved one are suffering from addiction to drugs or alcohol, as well as any related mental health disorders, such as depression, anxiety, or trauma, Hawaii Island Recovery can help. We work to serve the community, one person at a time. If you are searching for help, please reach out now by calling us at (866) 390-5070.