Whether you're coming to Hawaii for a tropical getaway or joining us for alcohol and drug rehab in a tranquil, healing environment, you should embrace the opportunity to explore the beauty and wonder the Big Island has to offer. Check out these eight things to do in Hawaii, the big island during your visit!
Many people come to Hawaii to visit the beaches. However, our first can't-miss thing to do in Hawaii, the big island requires you to layer up in some warmer clothes.
That's because Mauna Kea is a volcano that marks the highest point in the state of Hawaii! Visitors to the parks surrounding Mauna Kea can enjoy hiking, birdwatching, and stargazing at the Onizuka Center for International Astronomy.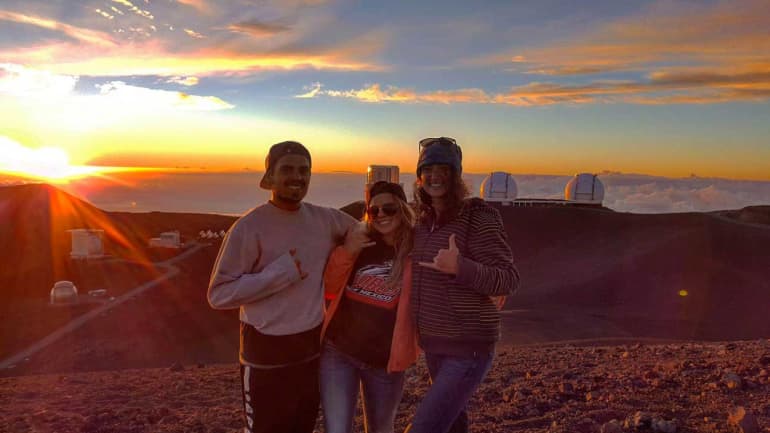 There's plenty to explore at Volcanoes National Park.  Visitors spend anywhere from a few hours to a few days here.  Come face-to-face with the magnificent summit of the Kilauea Volcano by driving along the 11-mile Crater Rim Drive. If you're feeling more adventurous, park your car and explore this beautiful park on foot. Either way, this is sure to be a highlight of your stay on the Big Island.
The hike at Akaka Falls is perfect for visitors with little to no hiking experience. The paved hike is less than half a mile long. However, it leads to one of the most famous waterfalls on the Big Island—a 442-foot waterfall surrounded by a lush, scenic rainforest. With breathtaking views along an easily walkable trail, this must-see stop will please everyone in your group.
Waipio Valley is one mile across, over five miles deep, and surrounded by 3,000-foot cliffs. You can take in the spectacular view without hiking a single trail. Visit the breathtaking overlook or take a guided van tour to experience the beauty of this must-see spot. Those who choose
to do so can immerse themselves in the panorama by hiking or horseback riding. For a more relaxing activity, they can walk along the black sand beach at the bottom of the valley.
You already know that the Big Island is home to some of the most beautiful landscapes in the world. However, did you also know about its rich cultural history? Honaunau National Park is the perfect place to explore both. See the "place of refuge," a sacred site where Hawaiian lawbreakers once fled to escape death and find safety. This park stopped serving as an official refuge in the early 19th century. However, you can still leave this historic site feeling a sense of renewal, hope, and peace.
Once you've explored any of the above sites on foot, it's time to encounter the beauty of the seas. Kailua-Kona is known worldwide as one of the best places for swimming with manta rays. Book your dive at night to witness these stunning creatures during feeding time. Does swimming during nighttime feeding sound a bit out of your comfort zone? Don't worry—manta rays feast on tiny plankton and aren't aggressive towards humans.
Swimming with dolphins is a popular activity among tourists for a good reason. There's nothing quite like coming face to face with these beautiful, intelligent creatures. Here at Hawaiian Island Recovery, we've found these encounters to be so life-changing that we offer wild-dolphin-assisted therapy as part of our treatment program.
Whether you're struggling with drug or alcohol addiction or simply visiting the Big Island to escape from the stresses of daily life, swimming with dolphins will give you an emotional experience. The fresh perspective will carry you throughout the next phase of your life journey.
If you're looking for the quintessential Hawaiian beach experience, Hapuna Beach is the place for you. With crystal clear water and beautiful white sand, this must-see state park has something for everyone. The beach offers opportunities to swim, hike, snorkel, and more. It's no wonder we've listed this as one of the five best beaches on the Big Island!
EXPLORE THINGS TO DO IN HAWAII, THE BIG ISLAND DURING ADDICTION RECOVERY
In evidence-based therapy sessions, drug and alcohol addicts receive the tools they need to live a life of sobriety. However, it is in exploring the Big Island's incredible beauty that our residents have life-changing experiences. These experiences inspire them to stay the course when the journey to recovery gets difficult. That's why we take our residents on regular excursions to each of the above must-see places.
These excursions frequently turn out to provide valuable turning points in our residents' treatment. Program graduate Charlie shares, "One of the most beneficial therapies happened off-site, out-of-the-office. We had the opportunity to do therapeutic work in nature. For me, being in nature allowed me to heal without the stigma of an office setting."To learn more about how you or your loved one can undergo top-of-the-line recovery treatment while exploring all the Big Island has to offer, contact us today!
Get Help Today!
If you or a loved one need help, call Hawaii Island Recovery toll-free right now.
866-390-5070