What is EMDR Therapy?
Eye movement desensitization and reprocessing continues to help thousands of people work through trauma every year.
Last Updated on
As you learn more about types of treatments and therapies, you may have heard of and wondered, "what is EMDR therapy?" EMDR is short for eye movement desensitization and reprocessing therapy. It's not a new form of therapy but popularity of EMDR increased over the past decade or so.
Like cognitive behavioral therapy (CBT) or dialectical behavior therapy (DBT), EMDR is another method of therapy. Different types work more effectively for different people and diagnoses. The end goal of therapy is to heal and help people learn to navigate and get through life in a healthier way. EMDR is another way to make that happen.
So, what is EMDR therapy? Find out how it works, who it helps, and whether it might help you. Continue reading to learn more about eye movement desensitization and reprocessing therapy!
What is EMDR?
Eye movement desensitization and reprocessing therapy, or EMDR, is a form of psychotherapy. It focuses specifically on helping people work through traumatic events and the resulting memories. When you experience something traumatic and don't process it properly, the impact of that event continues.
Many times people do not receive the help needed to process through the alarming and bad things that happen in their lives. EMDR encourages your brain to work through these events and "reprocess" them. This settles many beliefs and behaviors you developed as a result of not getting through those memories at first.
To understand what is EMDR, it helps to know how a session works. EMDR selects specific memories that cause present day emotional distress. You focus on one memory at a time. This method uses a visual cue, such as the therapist's hand, pointer finger, or a light board, to stimulate the brain while sitting with the memory. Some therapists choose to use sensory cues, like tapping, or audio cues through a headset.
The visual, physical, or auditory stimulation encourages the rewiring process in your brain. Your therapist checks in with you between "sets" of cues to see how you view the memory. It usually takes between one and three sessions of treatment to work through one of your memories.
A Deeper Look
You have a brief understanding of what is EMDR. How does a course of treatment with eye movement desensitization and reprocessing work? There are guidelines for therapists to follow when taking you through a course of EMDR treatment.
The method is broken down into eight phases:
Phase 1: Your therapist looks into and takes down your history.
Phase 2: You work with your therapist to prepare for EMDR treatment.
Phase 3: During a session, you focus in on a specifically selected memory.
Phases 4-7: Work through the memory to resolution with your therapist.
Phase 8: You and your therapist evaluate the results of your EMDR treatment.
You work through each phase of treatment for each memory you need to target. The process is solution-oriented and does not focus on the trauma for longer than necessary. A therapist's goal using EMDR is to reach a resolution as efficiently as possible.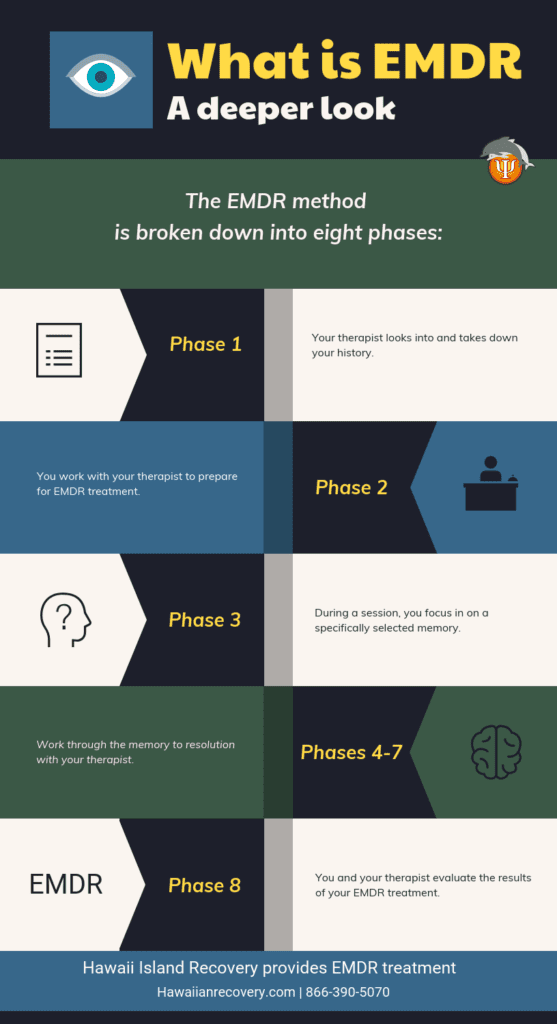 When Does EMDR Work Best?
Again, therapists use eye movement desensitization and reprocessing to help people plagued by their traumatic memories. Now that you understand what is EMDR, who does it help? It works with anyone who has lived through a traumatic experience that still affects them. For example, individuals with post-traumatic stress disorder benefit greatly from EMDR.
An estimated 70 percent of people experience some type of traumatic experience in their lives. 20 percent of these people develop post-traumatic stress disorder (PTSD) as a result. The symptoms of PTSD range from mild to severe depending on the person. Some are so entirely debilitated by their symptoms and have difficulties leaving the house.

When the traumatic experience leaves a lasting impact and the person develops PTSD, therapists often turn to EMDR to help. Through working together, the individual and their therapist process through the difficult memories. As they work through each, they find their symptoms decrease over time to the point they no longer struggle with PTSD.
How Effective is EMDR?
The length of treatment depends on how long your behaviors and beliefs continue for. The more deeply ingrained your memories are, the longer treatment lasts. Depending on how many memories you must work through, treatment may take up to a few months.
Still, research shows that in 84 to 90 percent of cases, it takes between one and three sessions to process through a memory. Many therapists see EMDR as an effective form of treatment for those who struggle with the impact of their traumatic past.
In one study, 77 percent of war veterans found freedom from PTSD symptoms after 12 sessions. In another study, 100 percent of people with a single traumatic experience no longer struggled with PTSD after six sessions.
Finding Treatment for Trauma
The sooner you seek treatment, the sooner you can reach a resolution with your past. After understanding what is EMDR, you may realize it could help you with the symptoms you live with. Facilities like Hawaii Island Recovery staff therapists who specialize in eye movement desensitization and reprocessing therapy.
Do you think you may benefit from EMDR treatment?
Call us today at
to let us know how we can work with you.