The primary text of 12-Step recovery (most commonly known as the "Big Book") has an entire chapter devoted to helping others in recovery. This chapter is quite aptly entitled "Working with Others," and it emphatically declares, "Practical experience shows that nothing will so much insure immunity from drinking as intensive work with other [people struggling with addiction]. It works when other activities fail." As veterans experience unique circumstances for substance abuse recovery, veteran treatment programs can foster valuable peer relationships and connections with other veterans healing from addiction and other mental health concerns.
The Importance of Individualized Addiction and Mental Health Care
There is quite a consensus among treatment professionals that individualized care is more effective than broad overarching recovery plans. Ultimately "cookie-cutter" treatment is rarely effective and lacks the personal connection that is essential for long-term recovery.
This individualized care is also vitally important in veteran treatment programs. According to the 2020 National Survey on Drug Use and Health: Veteran Adults (NSDUH), "Millions of veterans struggle with substance use disorder and mental illness. Almost three-quarters of veterans with SUD struggled with alcohol use… [and] 1.1 million veterans had both an SUD and mental illness."
To put those numbers in perspective, the NSDUH estimates that roughly 6 million veterans are struggling with some form of addiction. This is a population that appears to be falling through the cracks of recovery, which is both shameful and tragic. The good news is that more veteran treatment programs are popping up than ever before.
Why Individualized Addiction Treatment Works Better Than Other Treatment Methods
Learn what individualized addiction treatment can do to help a drug addict in ways that 12 steps and other rehab programs cannot. Hawaii Island Recovery is a residential substance abuse rehab facility that offers individualized addiction treatment in a relaxing and healing environment.
More info
Veteran Treatment Programs: The Importance of Population-Focused Care
While it is true that the U.S. Department of Veterans Affairs (VA) offers some veteran treatment programs, they can sometimes be hard to access and have bureaucratic hurdles that get in the way of urgent addiction needs. This is where independent recovery centers can pick up the slack and offer veteran-focused treatment programs.
These programs can be highly effective because they focus on issues that tend to universally affect veterans. Now, these are issues such as combat trauma, post-traumatic stress disorder (PTSD), the feeling of being abandoned after returning home from active duty, and the need for specific coping tools for integrating back into society after treatment. These programs also offer the chance to connect with other veterans who are struggling. Also, as previously mentioned, connecting with others in recovery is crucial.
Veteran Treatment Programs: The Benefits of "Shared Experience"
Connecting with a community of peers in veteran treatment programs not only offers a chance to exchange information and tips on recovery but also reminds veterans that they are not alone. Everyone deserves to be seen, and sometimes veterans who are struggling aren't offered this dignity. Civilians may be intimated by their military status, or they may hold some type of political stigma, or even feel as though veterans are "too strong" to succumb to addiction. These ways of thinking are both unfortunate and wrong.
However, veterans are "uniquely qualified" to help other veterans in recovery. This is because they have something known as "shared experience." Sometimes this shared experience is what is needed to kickstart a willingness to recover. In active addiction, a veteran's world can become very small. A feeling of loneliness and what is known as "terminal uniqueness" often takes hold. However, working with other veterans can open that world back up and show them that they are not the only ones struggling and that they have a chance to experience life in a wholly new positive light.
Veteran Treatment Programs: By Helping Others Recover, We Ensure Our Own Recovery
In recovery (especially 12-Step recovery), there are many paradoxes. These are paradoxes like "We must surrender to win," "We must suffer to get well," and "We must die to live" (metaphorically of course). One of the biggest paradoxes of recovery that pertain to veterans helping veterans is "We must give it away to keep it."
Working with others in recovery can be particularly effective for many reasons. However, one of the most important reasons is also one that may be the most simple. This is focusing on other people's problems making it impossible to focus on one's own. It is simply impossible to focus on two separate problems at once, and sometimes getting away from personal problems is what can save a challenging day from becoming a consequential one.
Hawaii Island Recovery, A Licensed Alcohol and Drug Treatment Facility, Is Now Accepting Insurance
Hawaii Island Recovery is a licensed, 8 bed, special treatment facility on the Big Island of Hawaii. Learn more about HIR.
More info
A Focus on Community Recovery: Hawaii Island Recovery
Here at Hawaii Island Recovery, we understand the unique recovery needs of veterans, as we have veterans on our staff who have had the same experiences and challenges in active addiction and recovery.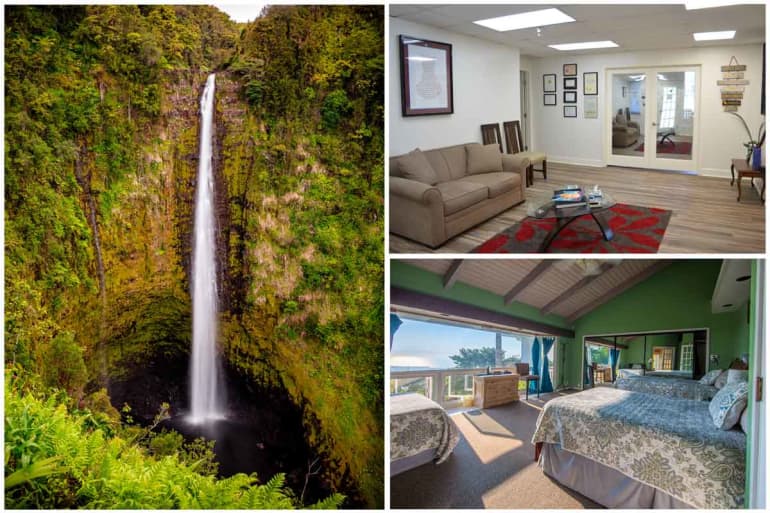 It has been said that one can judge a society by the way it treats its service members and veterans. With such negative statistics regarding veterans and recovery, it appears the U.S. is not living up to this maxim. At Hawaii Island Recovery we aim to change this reality, one veteran in need at a time.
Transitioning into civilian life is difficult for many veterans. They face additional challenges that many non-veterans cannot relate to. This is why it is important to provide appropriate and effective treatment options for them. Such options will ensure that veterans are getting the treatments that will meet their needs. Among these options, group therapy with peers is a great way to help veterans feel comfortable and safe in a space to discuss and work through their mental health and addiction-related issues. If you are a veteran or know a veteran who is struggling with addiction, we can help. For more information on specific treatment options for veterans, please reach out to Hawaii Island Recovery today at (866) 390-5070.