Drug Rehab in Hawaii
Drug Rehab in Hawaii is just a phone call away. Hawaii Island Recovery is the premier drug rehab in hawaii, offering full service in a serene environment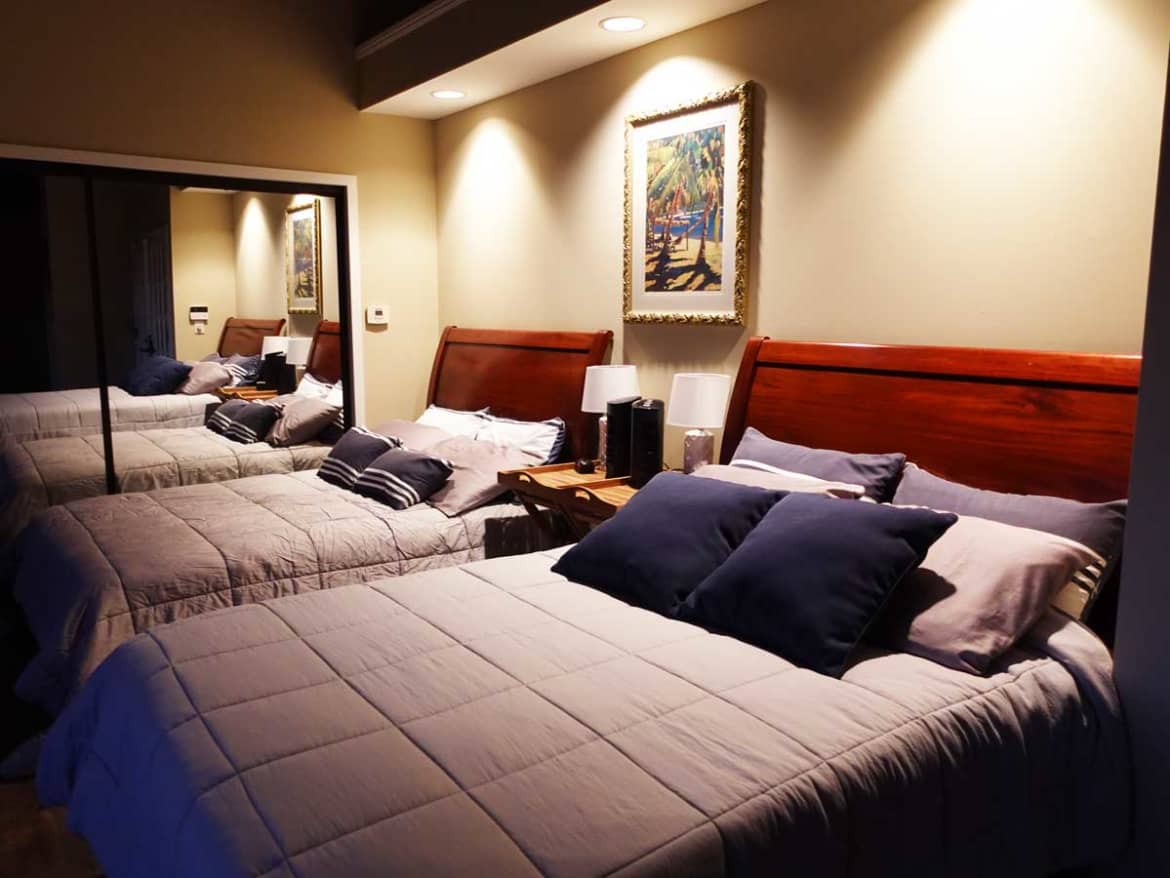 When someone is caught in the cycle of drug and alcohol addiction, it can be hard to see a way out, let alone know there is a way out through receiving the needed treatment as you may feel helpless, alone, stuck, and as if nobody can help you. Maybe part of you even feels like you want to change, although another part of you is scared and resistant to change. While it's never easy for a person to admit they need help for a substance use disorder (SUD), finding the courage to acknowledge that you need treatment is the first step to recovery from addiction.
Do you or a loved one need treatment for addiction? If so, our drug rehab at Hawaii Island Recovery could be the fresh start that is needed.
Choosing to Get Treatment
To begin healing, a person must choose to get treatment for substance misuse and addiction. Many people who struggle with dependency are in denial about their use and oftentimes rationalize it, which can lead to worsening addiction.
The truth is that, while people may want to quit using drugs, many are not able to achieve lasting sobriety without getting professional treatment. They can see that cocaine, alcohol, or opiates are damaging their family relationships, their health, and their ability to function on a day-to-day basis. Overall they know that their health could be better if they could only stop using drugs. However, the drugs seem to have more control over their choices and actions than they do.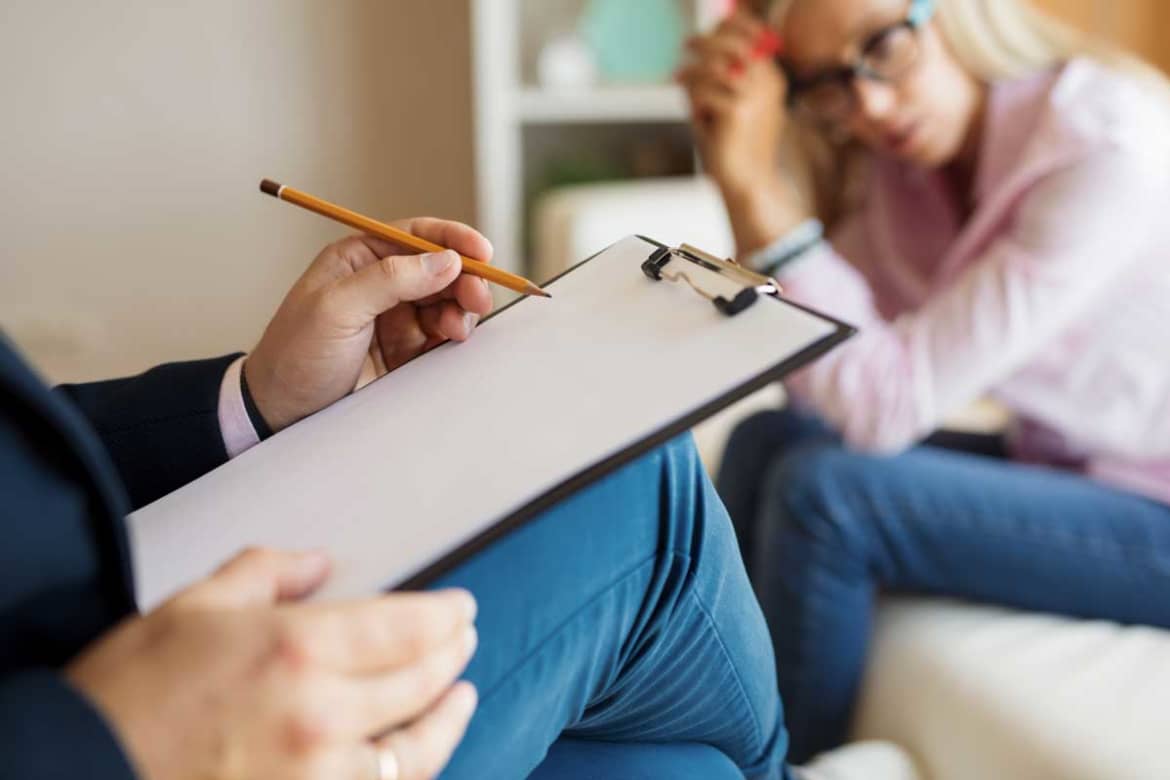 How each individual finds recovery is different. For instance, some need to hit "rock bottom" before seeking treatment while others may suffer a serious health crisis that shows them that rehab is necessary. Whatever the event is that causes someone to choose addiction treatment, there will come a moment when a person realizes that drug rehab is necessary. Taking the first step in reaching out for help is often the most difficult resistance to work through.
Why Should You Choose Drug Rehab in Hawaii?
There are many different treatment centers in all areas of the country, so why choose drug rehab in Hawaii?
For Hawaii residents, you can receive treatment here without needing to travel to the mainland. By remaining close to home, it's much easier for loved ones to involve themselves in family therapy if this makes sense in your treatment plan. This setup is ideal for someone who prefers comfortable and peaceful surroundings with relatives nearby.
Even if you do not live in Hawaii, it is still an excellent place to get treatment. On the Big Island, you'll be able to recover in a tranquil and beautiful environment that promotes healing. Seeing the ocean and being surrounded by nature each day can provide a sense of renewal that cannot be found anywhere else.
Should You Leave Home to Go to Drug Rehab in Hawaii?
Some people prefer to travel away from their homes for rehab as it distances them from the toxic environments that initially led them to develop a substance use disorder. Starting your recovery journey at a drug rehab in Hawaii not only keeps you away from harmful, negative influences, but it can also serve as a fresh start.
At Hawaii Island Recovery, you will reside in a treatment facility that gives you the chance to start over, heal, and experience wellness again.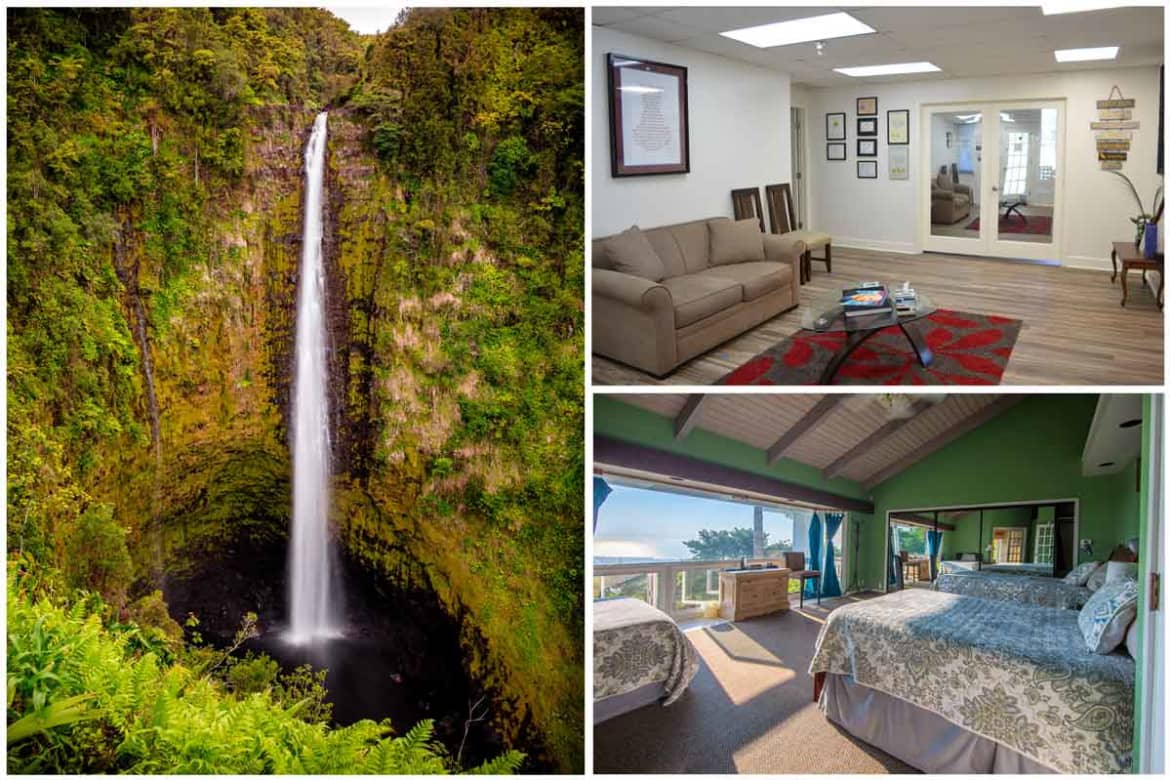 What to Expect from Drug Treatment in Hawaii
You can expect to feel welcome and comfortable at our treatment center, even if Hawaii is not your home. We strive to provide a comfortable, home-like atmosphere where you can grow and feel at ease as you work through the important changes you need to make in your life to experience lasting recovery. We know change can be uncomfortable, scary, and uncertain. This is one reason having a comfortable, safe, and stable environment is a crucial factor in a successful recovery.
Our trained professional staff offers individualized and holistic care. Our recovery plans will use different approaches to treatment that make sense for your unique needs and goals through a range of therapies that are designed to treat the "whole person."
Begin Rehab With Hawaii Island Recovery
Located in beautiful Kailua-Kona on the Big Island, our rehab center treats all types of addiction, including prescription medication addiction, alcohol addiction, and addiction to other drugs. We provide a tratmosphere where our clients can begin their recovery in peace. Our discreet location offers a unique sense of privacy as well.
What Our Services Include
When you come to Hawaii Island Recovery, you will start your journey in our supervised Detox program with our compassionate and medically trained addiction staff. From here, we will work with you in creating a treatment plan that makes sense for you and what you need, which could include a number of the following therapies: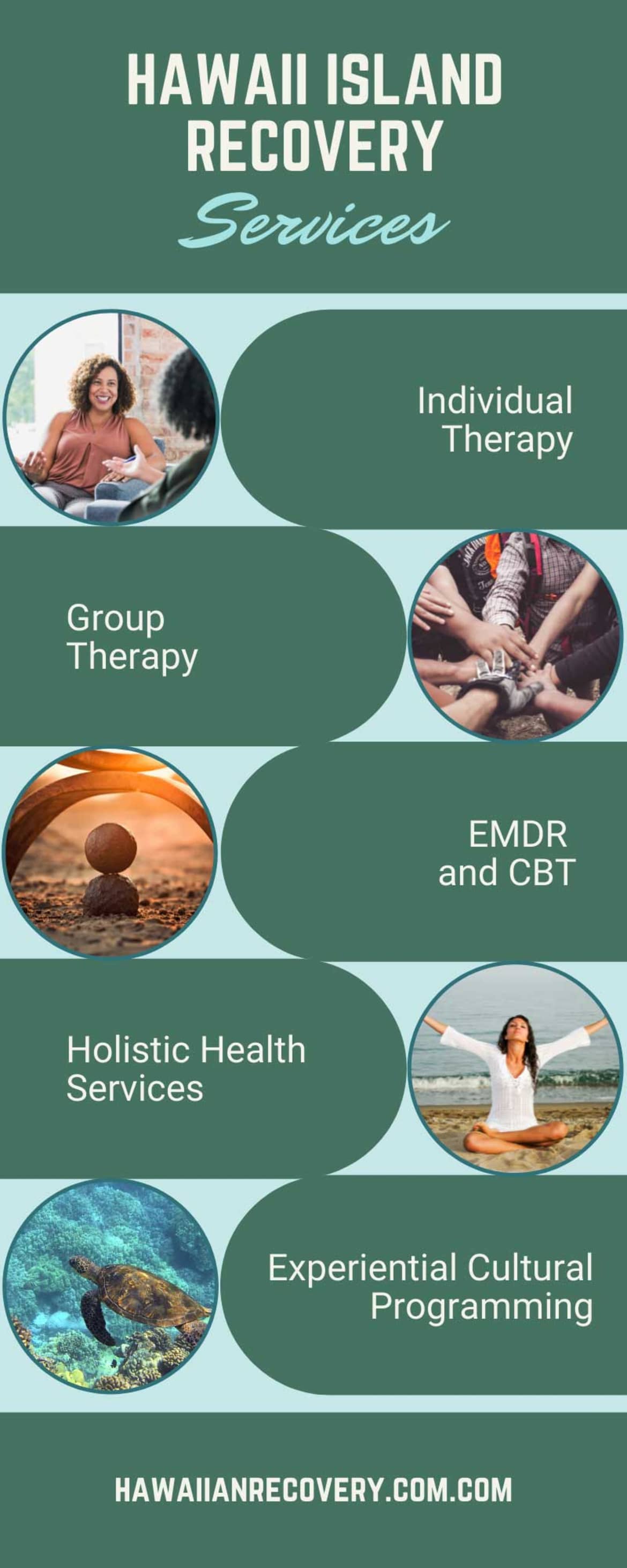 Not all treatment centers are created the same. What sets Hawaii Island Recovery apart from others is our commitment to treating the whole person. This includes treatment for substance use disorders and any co-occurring mental health disorders, such as depression, anxiety, and post-traumatic stress disorder (PTSD), that may be contributing factors in the development of SUD and addiction.
Hawaii Island Recovery, located on the Big Island in Hawaii, is an addiction treatment center that provides drug and alcohol rehab in a beautiful natural setting to help patients overcome substance use disorders (SUDs) and learn to maintain a lasting recovery. If you are struggling with drug addiction, call us at (866) 390-5070 to learn more about our facility and the services we offer.
Get Addiction Help!
If you or a loved one need help, call Hawaii Island Recovery toll-free right now.
866-390-5070
When an addict hits "rock bottom," it can be tempting to choose a drug rehab close to home out of fear. Before you or your loved one decides against traveling for rehab, take a moment to explore the benefits of drug rehab in Hawaii and consider if Hawaii Island Recovery might be right for you.
For many alcoholics and addicts, the decision to enter rehab doesn't happen until they've hit "rock bottom." This could be a hospitalization due to overdose, loss of custody of children, being fired from a job due to poor performance, being kicked out of school, having a run in with the law, or a falling out with loved ones.
In any case, this is a time of stress and uncertainty. In a moment where everything feels unstable, you may feel tempted to cling to the remaining threads of control over your life by choosing a drug rehab center close to home. However, making this decision out of fear can cause you to miss out on all the benefits of traveling for addiction rehab. Read on to learn four of the benefits of drug rehab in Hawaii.
Benefit #1 of Drug Rehab in Hawaii: A Fresh Start
An outpatient rehab program can seem appealing at first. You can leave at the end of the day and return to the comforts of your home and family. However, when you're recovering from addiction, familiarity isn't always a good thing. Being surrounded by the people and circumstances that contributed to your addiction can make it difficult to abstain from drugs or alcohol and successfully complete your rehab program.
When you travel to Hawaii for drug rehab, on the other hand, you get a fresh start. Without the distractions of home, you can focus your time and energy on healing your mind, body, and soul. Plus, it's much harder to quit rehab in Hawaii before you're ready to stand on your own two feet. Where you may simply opt to not show up to an outpatient rehab, you'd have to book a plane ticket to leave rehab in Hawaii. Because rehab can be challenging, it's good to have some obstacles that make it a bit more difficult to give up before you've had a chance to fully recover.
Benefit #2 of Drug Rehab in Hawaii: Access to the Best Addiction Therapies
If you're limiting your rehab search to only the centers closest to you, you may miss out on certain addiction therapies that would really help you along in your journey. Different rehabs have different approaches, and it's important to compare and find the one that appeals to
you, your journey, and your learning style.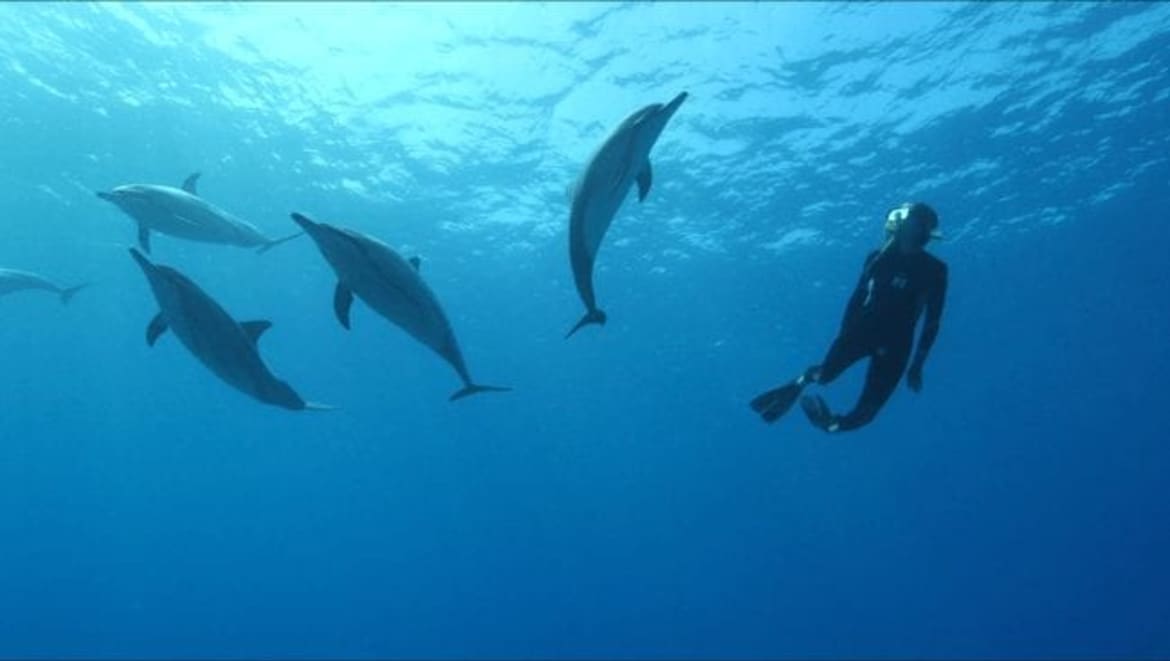 Benefit #3 of Drug Rehab in Hawaii: Life Changing Excursions
There's much more to therapy than sitting in group or one-on-one sessions with a therapist. While those meetings are certainly important in helping you find healing and prepare for a sober life after therapy, they are only part of the complete treatment picture.
It's also critical that you learn how to enjoy life and the world around you without the help of drugs or alcohol—and there's no more beautiful place to fall in love with life once more than the incredible island of Hawaii. Our residents often find that rehab excursions are a wonderful benefit of drug rehab in Hawaii. Opportunities to hike, explore waterfalls, enjoy the beach, and much more allow residents to heal, grow, and find strength for the journey ahead.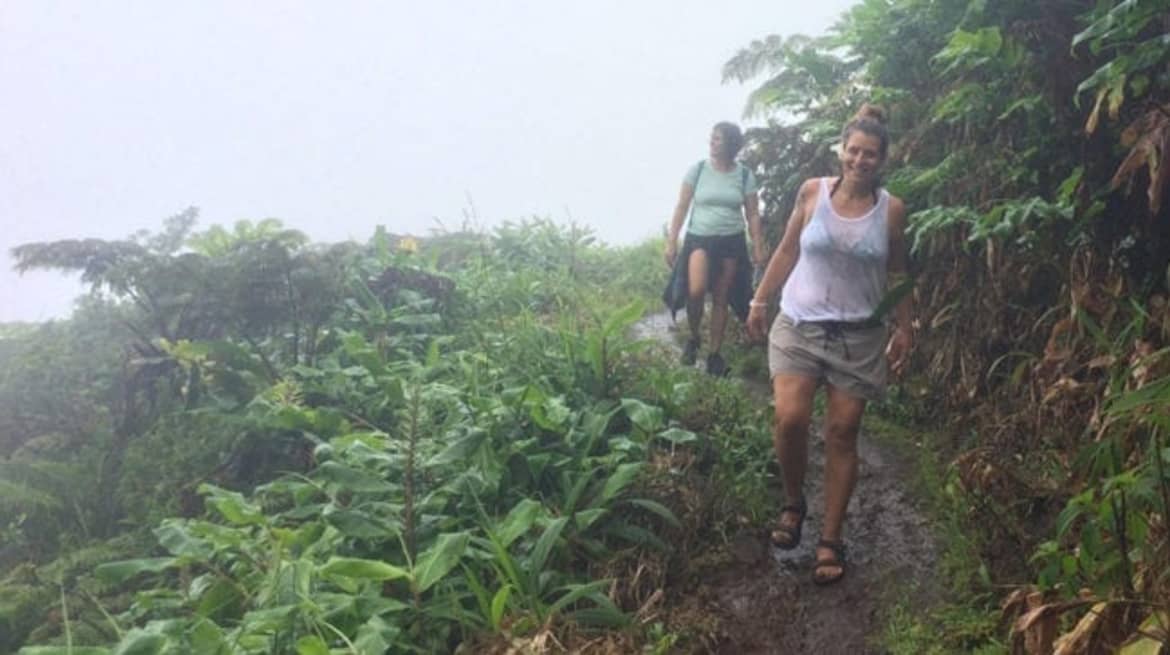 Benefit #4 of Drug Rehab in Hawaii: Leading Therapists and Staff
When choosing a drug or alcohol rehab center, you should consider not only the types of therapies available but also who will be guiding you throughout your journey to recovery. One benefit of choosing a rehab center in Hawaii is that, as one of the world's leading rehab centers, Hawaii Island Recovery is able to attract and hire the very best therapists and staff.
Staff members like Admissions Director Jimmy Kayihura, Music and Art Therapist Devora Kalma MA MT-BC, and Chef Dani all serve to make the HIR experience one of a kind. Our treatment team is comprised of licensed professionals who provide personalized care and cutting edge interventions to ensure you have the tools you need to achieve and maintain a sober lifestyle.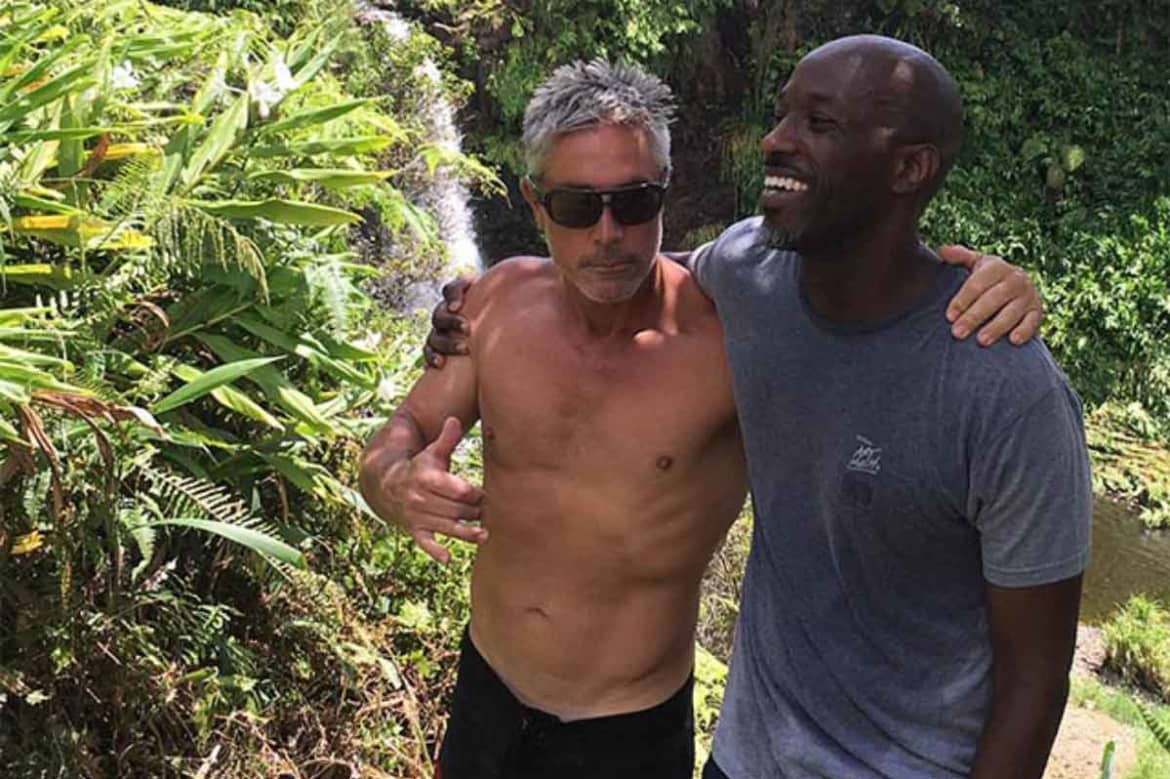 Learn More About the Benefits of Drug Rehab in Hawaii
The opportunity to experience a fresh start, have access to the latest addiction therapies, enjoy life changing excursions, and connect with leading therapists and staff make drug rehab in Hawaii a popular choice for recovering addicts around the world.
If you or a loved one is interested in learning more about the benefits of drug rehab in Hawaii, contact us today at 877-721-3556. We would love to connect with you, hear your story, and help you decide if drug rehab in Hawaii is right for you!