Addiction Treatment
Last Updated on
What is Addiction Treatment?
Drug addiction is a chronic, progressive condition referring to compulsive drug use regardless of consequences. People who struggle with drug addiction find and use drugs no matter what the cost, whether it's their job, education, family, or worse. It also causes both short-term and long-term changes in the brain.
One of the most important characteristics of drug addiction is the possibility of relapse. Although people can stop using drugs with ongoing support, there is no cure for addiction. Relapse is a common problem for those who struggle with addiction, no matter how long the person has been clean.
Addiction treatment is the practice of helping people who struggle with addiction to not only stop using drugs but to stay stopped. Since drugs become the central focus for someone with an addiction, they often struggle in other areas of life.
Effective addiction treatment also teaches newly-clean individuals how to be productive at home, at work, or at school. They learn how to reintegrate into everyday life without needing drugs to get by.
There are a few different methods used to treat addiction, including:
Behavioral therapy or counseling
Medication
Electronic medical devices
Dual diagnosis treatment
Long-term aftercare programs
Addiction treatment facilities use different combinations of these methods in varying levels of care. Treatment usually takes place in one of five types of care below.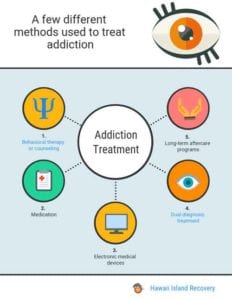 Drug Detox
People who use drugs for a period of time develop a dependence on the substances they use. They use to the point that their body needs these substances to function properly, despite the harm they cause. If they separate from the drugs for long enough or stop using them entirely, they experience withdrawal symptoms.
Detoxing from drugs involves getting through the withdrawal period. There are both physical and psychological withdrawal symptoms. The severity of symptoms depends on a few factors:
Type of drug or drugs used
Amount of substances used
Length of time substances were used for
Pre-existing mental illness
Some withdrawal symptoms are dangerous and life-threatening if not handled under medical supervision. Drug detox exists to help addicts get through the withdrawal period safely and to relieve some of the effects of drug withdrawals.
Inpatient Rehab
Inpatient drug rehab is often the next step after drug detox. Inpatient programs often take place over the course of 30-, 60-, or 90-day programs. Clients attend programming during the day then stay overnight in these facilities.
Each client works with a case manager to determine their goals during their time in treatment. They learn more about the nature of addiction and how to navigate life without needing to use drugs. People who attend inpatient rehab benefit from the community aspect in their early recovery. They are surrounded by others who share similar goals and have the same focus.
Inpatient rehab consists of behavioral therapy at both the individual and group level. Some facilities utilize alternative therapy methods such as animal-assisted therapy or holistic approaches.
Partial Hospitalization Program
Partial hospitalization programs, or PHP for short, similar to inpatient rehab but without the overnight stays. PHP offers the same amount of daytime programming with the same focus on staying drug free and developing necessary life skills. Some programs offer off-site housing in a sober living to keep clients in a safe and sober environment.
On its own PHP is oftentimes a more affordable option than inpatient rehab due to the lack of a necessary residential component. Clients still receive the same support at both an individual and group level throughout the week but can return home if they choose to.
Intensive Outpatient Program
Intensive outpatient programs, also referred to as IOP, usually follow treatment at an inpatient rehab or PHP. These programs offer less treatment hours during the week and focus on integrating clients back into everyday life.
Many IOP programs offer 3 to 5 hours of programming, 3 days per week. Clients further develop coping skills and relapse prevention methods to navigate life without using drugs. They are also encouraged to either return to work or look for a job, work through strained familial relations, and finish up school.
Drug Counseling
Drug counseling is an ongoing option for people who complete inpatient rehab, PHP, or IOP. People in recovery are most at risk for relapse during their first few weeks and months of clean time. Drug counseling gives clients the option to check in with a counselor once a week to remain accountable and track their progress.
Counseling isn't recommended as a first step for drug addiction treatment. It's most effective as an ongoing support system after working on and developing coping skills for staying clean.
Medically Supervised Detox at Hawaii Island Recovery
Anytime your body develops a chemical dependency on alcohol, opiates, benzodiazepines, methamphetamine, cocaine, amphetamines, or any other substance, the first step to recovery is detox.
Overcome Your Addiction
Learn more about the addiction recovery services we provide to help you break free from your substance or behavioral addiction.
Who Needs Addiction Treatment?
Not everyone who uses drugs needs to go to addiction treatment. Although drug use is never safe nor recommended, some people are capable of recreational use. There are also people who abuse drugs but stop after a period of time. But there is a.
Do you think that someone you know might need addiction treatment? How do you know who needs addiction treatment? First, understand that there is a difference between drug addiction and drug abuse. While they might seem the same on the surface, people with drug addiction cannot stop using drugs.
If the person in question shows signs of compulsive drug use despite the consequences, they might benefit from addiction treatment. There are various signs of drug addiction that you can look out for if you're concerned about someone's use.
The most important thing to remember, though, is that no one will stop using unless they want to. They might stop using while they are in treatment but they will likely return to using as soon as they are out. If they don't want to get clean, addiction treatment will get them off drugs but it won't keep them clean over the long-term.
When You Need Addiction Treatment
How do you know when you need addiction treatment? It's similar to understanding who needs addiction treatment above. If you sit down and are honest with yourself, you'll know whether you are capable of quitting entirely.
If you aren't able to stop using drugs on your own, or you can't stay stopped, you need addiction treatment. You'll learn about the effects of drug addiction and methods to replace old behaviors and stay away from drugs.
Although it might seem scary at first, attending addiction treatment is the best decision you can make for yourself. You don't need drugs to get through life and treatment will teach you exactly how to do that.
Why is Addiction Treatment Important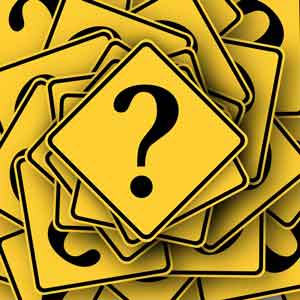 Addiction affects a larger portion of the population than you might realize. An estimated 8.1 million people over the age of 12 had a substance use disorder involving at least one illegal drug in 2018. This means that 3 percent of the population in the United States struggled with some form of drug addiction last year.
Drug addiction is a progressive disease and there is no known cure at the moment. It's a relapsing disorder, meaning recovering addicts are at risk of returning to drugs even after a period of clean time.
This is where addiction treatment comes into play. Attending treatment gives people the understanding and support they need to separate from drugs. Long-term recovery isn't as simple as just not using drugs; addiction often takes over a person's entire life. They need to learn to live without relying on substances to get by.
The Need for Treatment
People with a full-blown substance use disorder are not the only people who qualify for treatment. Some individuals who abuse drugs benefit from the support of addiction treatment as well.
About 21.2 million people qualified for substance use treatment in 2018, according to the National Survey on Drug Use and Health. In other words, 1 in 13 people ages 12 and older would benefit from treatment for their substance use.
Not everyone who could benefit from treatment is able to get the help they need, though. Of those 21.2 million people, only about 17 percent, or 3.7 million, were able to attend addiction treatment.
Addiction treatment gives people the chance at a new life free from drugs and alcohol. It offers people another opportunity to press the restart button and try again. They receive the support necessary to dive into a new way of living.
Treatment You Can Trust | Hawaii Island Recovery
Discover the evidence-based treatment therapies we offer to help you overcome your substance or behavioral addiction.
Explore a Dolphin Assited Therapy 
Hawaii Island Recovery approaches addiction as an affliction affecting body, mind and spirit.
Overcoming Addiction Without Treatment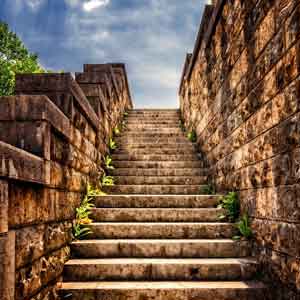 While treatment is not the only way to overcome addiction, it provides a helpful environment to focus only on recovery. Alternatives like 12-step programs or other recovery-based programs offer another option to separate from drugs without going to treatment.
It's important to consult with a doctor before deciding to quit using drugs without going to treatment, though. People who use large amounts of drugs, mix substances, or used for a long period of time are at risk of going into drug withdrawals.
Withdrawals can be dangerous or life-threatening if not treated with the appropriate medical care. The factors mentioned above determine the severity of possible withdrawal symptoms. Medical professionals can determine whether detox or medication-assisted treatment is necessary.
How Effective is Addiction Treatment?
It's difficult to determine the overall effectiveness of addiction treatment due to the wide range of factors at play. First of all, every person is different. They have their own individual story that brought them to where they are. Some drugs are more difficult to quit using than others. Not everyone has access to the same type or length of treatment that others do.
There are numerous ways to treat addiction, including therapy, medication, and other experiential forms of treatment. It's impossible to group every type of addiction treatment method together to determine a single statistic for effectiveness.
Relapse is an acknowledged possibility when living in active recovery from a substance use disorder, though. Even people who attend addiction treatment are at risk of relapsing at some point. One study puts the rates of substance use disorder relapse between 40 and 60 percent.
This doesn't mean addiction treatment isn't an effective approach, though. People who live with other conditions or disorders, such as hypertension, have relapsing disorders as well. Relapse does not mean that a person failed. As long as they make an active effort to separate from drugs again and get back on track, they can continue making changes in their life.
How Addiction Treatment Works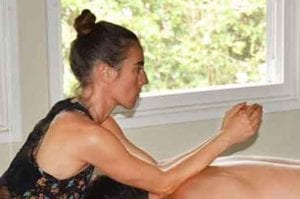 Treating addiction involves much more than getting a person to stop using drugs. Those with severe drug addictions often have little left outside of their using habits. They center their lives around the pattern of finding money, buying drugs, and getting high. After a certain point they cut most everything from their life that doesn't relate to their drug use.
Some individuals damage not only themselves but their relationships with family and friends. Their use might have affected their performance and reputation at work or in school. They may face court cases as a result of disrupting their community. There are many aspects to recovery aside from quitting using drugs.
Treatment centers must take these circumstances into consideration in order to treat drug addiction effectively. Facilities also look at the extensive damage people do to their bodies, both physically and mentally. Successful treatment incorporates the person as a whole rather than looking solely at their drug use.
Effective addiction treatment facilities work with each person on an individual, case-by-case basis. They look at all aspects of each client that comes into their care. Case managers work with their clients to develop and outline a plan of action to carry out while in treatment. The ultimate goal for every person who attends treatment is successful reintegration into society.
Addiction Treatment Therapies
Not every person responds to treatment modalities in the same way. Every individual has their own unique story that led to their present circumstances. There is no one-size-fits-all template when it comes to treating drug addiction.
Facilities take this into consideration and offer various types of addiction treatment therapies. People respond differently to different types of treatment so offering a range of options gives clients a better chance at successful rehabilitation.
Cognitive Behavioral Therapy (CBT)
Cognitive behavioral therapy, or CBT for short, is a classic therapy approach used to treat many different mental disorders. CBT operates on the idea that a person's thoughts, or cognitions, influences their behaviors. If they have negative, unhealthy, or incorrect thought patterns they act out in negative or unhealthy ways.
Clinicians use CBT with clients to address and work through these unhelpful and often deeply-rooted thought patterns. As people look at and correct their negative cognitions they often see an improvement in behavior over time.
Dialectical Behavior Therapy (DBT)
Dialectical behavior therapy, often referred to as DBT, is a specific subtype of cognitive behavioral therapy. It's intended for high-risk clients, such as individuals who cope with borderline personality disorder or drug addiction.
DBT focuses on the difficulties people have in processing painful emotions that lead to unhealthy behaviors and conflict in their relationships. Individuals who turn to drugs to cope with their feelings struggle with appropriate emotional regulation.
Dialectical behavior therapy equips them with healthy alternatives to manage their feelings and deal with stress. Clients develop effective coping skills that limit the supposed need to turn to substances to work through difficult times.
Eye Movement Reprocessing and Desensitization Therapy (EMDR)
Eye movement reprocessing and desensitization, usually called EMDR therapy, is a form of treatment that focuses on trauma. It's intended to work with clients who never had a proper opportunity to process their traumatic memories. As a result, these memories often impact their ability to function to the best of their ability.
EMDR helps a wide range of people affected by trauma, from those with a single difficult memory to those who lived through years of traumatic events. Clinicians walk clients through the memories along with the feelings and beliefs associated with those memories. Clients often see effective results in reprocessing these memories through EMDR therapy.
Contingency Management
Contingency management therapy incorporates positive reinforcement through the use of a reward system. Facilities determine a set of guidelines clients must follow to receive special privileges or other incentives. For example, clients might be eligible when they remain free of drugs, participate in therapy or group, or take their medication.
Motivational Enhancement Therapy
Motivational enhancement therapy is an approach that aims to engage and make use of a client's motivation. It's intended to inspire a client to take action towards quitting drugs by encouraging their own internal sense of motivation. Clients work with a counselor to set specific recovery goals and adjust their behavior as necessary to meet them.
Family Therapy
Family therapy incorporates members of the client's family into the therapeutic process. This often focuses on their parents or spouse, but it may also involve siblings, children, or members of their extended family. It offers a safe space to process and work on difficult or strained relationships with family members. Both the client and members of their family get the opportunity to speak on where they're at with the help of a therapist as a mediator.
Inpatient and Outpatient Addiction Treatment
Depending on the facility, addiction treatment is available on either an inpatient or outpatient basis. Some treatment facilities offer both types of services while others offer one or the other. Those that offer both options usually start clients out in inpatient care then transfer them into outpatient care after a period of time.
The main difference between the two is inpatient offers care around the clock, with clients staying overnight either in the facility or at offsite housing. Outpatient treatment, on the other hand, takes place during the day then clients are free to reside where they choose.
What is Inpatient Addiction Treatment?
Addiction treatment programs take place on either an inpatient or outpatient basis. Inpatient addiction treatment is one of the two main types of drug addiction treatment programs. These are intensive treatment programs with a residential component, meaning clients are required to stay overnight.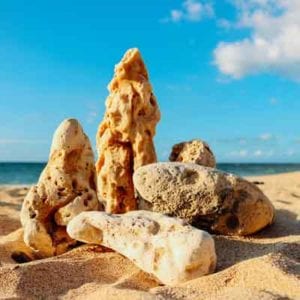 Inpatient addiction treatment is considered the most intensive treatment type. It's meant for those with serious substance abuse or dependence problems. Inpatient treatment is a great option for people who can't stop using drugs despite the consequences they might face.
Instead of trying to quit using drugs in the middle of their stomping grounds, inpatient treatment essentially provides a "time out" from everyday life. It removes addicts in early recovery from the day-to-day temptations. They spend every single day in a recovery-focused environment surrounded by others with the same goals.
The downside of inpatient addiction treatment, though, is the cost. Most inpatient programs cost more than outpatient alternatives. The residential aspect creates a supportive environment for early sobriety but significantly raises the price of treatment.
Thankfully, most inpatient addiction treatment programs accept insurance. Whether someone is eligible for inpatient treatment depends on their insurance policy. Some facilities offer alternatives for individuals who truly need treatment but can't afford it.
Explore the Addiction Treatment Program
Hawaii Island Recovery's residential addiction treatment services provide 24-hour supervision to ensure your safety and sobriety.
How Does Inpatient Addiction Treatment Work?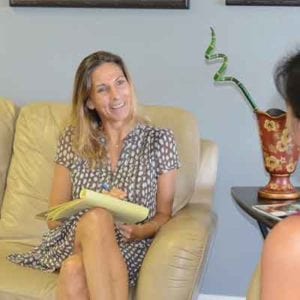 Inpatient addiction treatment is an intensive program that most often takes place over the course of 30, 60, or 90 days. Some programs last up to six months or longer. The length of treatment depends on a few factors, such as the severity of the substance use problem, time commitments, and insurance coverage.
Those who attend inpatient treatment must commit to stepping away from their everyday life for the length of the program. They need to be able to take time off of work or school, or away from their family, in order to attend treatment.
Some people choose to attend an inpatient program near where they live in order for family to visit. Others select a facility farther from home to get them away from the temptations of daily life. There is no right or wrong choice when it comes to distance; each person must decide what works best for their situation.
Day-to-Day in Inpatient Addiction Treatment
Clients work with a case manager to develop an individualized treatment program tailored to provide them the help they need. The majority of programming in inpatient addiction treatment facilities takes place eight hours per day, five days per week. Each hour of the day is planned and accounted for, especially during the first few weeks of the program.
There is both individual and group therapy as well as educational components to treatment. Some programs offer holistic or alternative treatment modalities, such as art therapy or animal-assisted therapy. Many facilities also take their clients on group outings.
The ultimate goal of inpatient addiction treatment is to integrate clients back into their lives, without relying on drugs to get through their day. Although it provides an excellent place for clients to first separate from drugs, inpatient treatment isn't a realistic test of their recovery.
Inpatient addiction treatment often comprises the first portion of treatment then clients move into follow-up phases. These usually involve transitioning them into a partial hospitalization program (PHP) or intensive outpatient program (IOP). They attend less treatment programming and instead focus on integrating back into work, school, or home
Hawaii Island Recovery | Top Addiction Treatment Center
What is Outpatient Addiction Treatment?
Outpatient addiction treatment is the other main option for drug addiction treatment. Some people choose to attend outpatient addiction treatment from the beginning. Others transition into outpatient after first attending an inpatient treatment program.
Outpatient addiction treatment programs offer a more affordable alternative to inpatient addiction treatment programs. They don't include the residential aspect that inpatient does which significantly lowers the cost of treatment.
It also involves less of a time commitment than inpatient treatment. Instead of the full-time programming and staying overnight, outpatient treatment usually takes place 3 to 5 hours per day, 3 to 5 days per week. It makes treatment accessible to those who can't completely step away from work or school to get the help they need.