Alcohol Withdrawal Symptoms: A Deeper Look
Withdrawal symptoms keep too many people from getting sober. Find out more about them and how you can get help.
Last Updated on
One of the biggest hurdles between alcohol abuse and sobriety is coping with the alcohol withdrawal symptoms. Have you ever watched someone who struggles with drinking try to get sober? For serious alcoholics, the first few days and weeks of sobriety are some of the most challenging times due to withdrawals.
Not everyone who stops drinking experiences signs of withdrawal. Waking up with an excruciating hangover after going too hard on a Saturday night might feel excruciating. Your temporary nausea and headache are a far cry from actual alcohol withdrawal symptoms, though.
What causes someone to go through withdrawals? What do the symptoms look like? How can you cope with them and come through on the other side? Continue reading to learn more about the true impact of alcohol withdrawal symptoms.
The Levels of Alcohol Use
Millions of people throughout the United States use alcohol responsibly. Many holidays during the year involve drinking in some way or another. Going out for cocktails is a common way for coworkers to socialize after a long day. Cases of beer are a staple at nearly every Super Bowl party across the nation.
Most people consume alcohol without a problem. On the other end of the spectrum are those who cannot stop drinking no matter what the consequences are. A few more types of drinkers exist between these two extremes as well. The National Institute on Alcohol Abuse and Alcoholism (NIAAA) outlined a set of drinking levels to help classify the seriousness of a person's alcohol use.
Moderate Drinking
86 percent of Americans over the age of 18 have tried alcohol at least once in their lives. More than half of the population had a drink in the past month alone. Still, the majority these individuals can have one or two before calling it a day. This is called moderate drinking. The U.S. Department of Health and Human Services defines moderate drinking as one drink per day for women and two drinks per day for men.
Binge Drinking
College students are notorious for massive parties where millions of young adults binge drink. What exactly is binge drinking, though? The NIAAA classifies it as drinking behavior that brings a person's blood alcohol concentration (BAC) to .08, the legal limit, within two hours. This takes four drinks for most women and five drinks for the majority of men.
Heavy Alcohol Use
Heavy alcohol use occurs when a person binge drinks on five or more days in a single month. The risks to your health increase and you might want to take a look at your alcohol use if you regularly drink this much. Still, you don't yet qualify as having a serious alcohol problem. You probably will not experience alcohol withdrawal symptoms yet if you quit drinking now.
Alcohol Use Disorder (AUD)
Alcohol use disorder (AUD) defines someone with a serious alcohol problem. The Diagnostic and Statistical Manual of Mental Disorders (DSM) outlines 11 criteria for diagnosing an AUD. These are the individuals who experience alcohol withdrawal symptoms when they quit. An estimated 6.2 percent of the population in the United States has an alcohol use disorder.
What Are Alcohol Withdrawal Symptoms?
Once someone has drank for a long period of time, some for months and the majority for years, their bodies become used to alcohol. They rewire their brains to expect a drink at some point during the day, sometimes multiple times per day. Their bodies depend on their drinking to feel better and get by both mentally and physically.
When these individuals quit drinking cold turkey, they experience alcohol withdrawal symptoms. This refers to their body's reaction to the lack of alcohol in a person's system after months or years of depending on it. Both physical and mental symptoms occur in most cases.
Withdrawals from alcohol include:
Frustration or irritability
Nervousness or anxiety
Depression
Tiredness or exhaustion
Nightmares
Jumpiness
Shakiness
Rapid and extreme shifts in mood
Difficulties thinking clearly
Nausea and vomiting
Headaches
Insomnia
Hand tremors or other body tremors
Delirium tremens (DT's)
Depending on how much and how often a person drank, symptoms may start as soon as two hours after their last drink. Others may not experience withdrawals until 8 to 12 hours after taking the last drink. The worst of a person's alcohol withdrawal symptoms happen in the first week or two but side effects may last longer.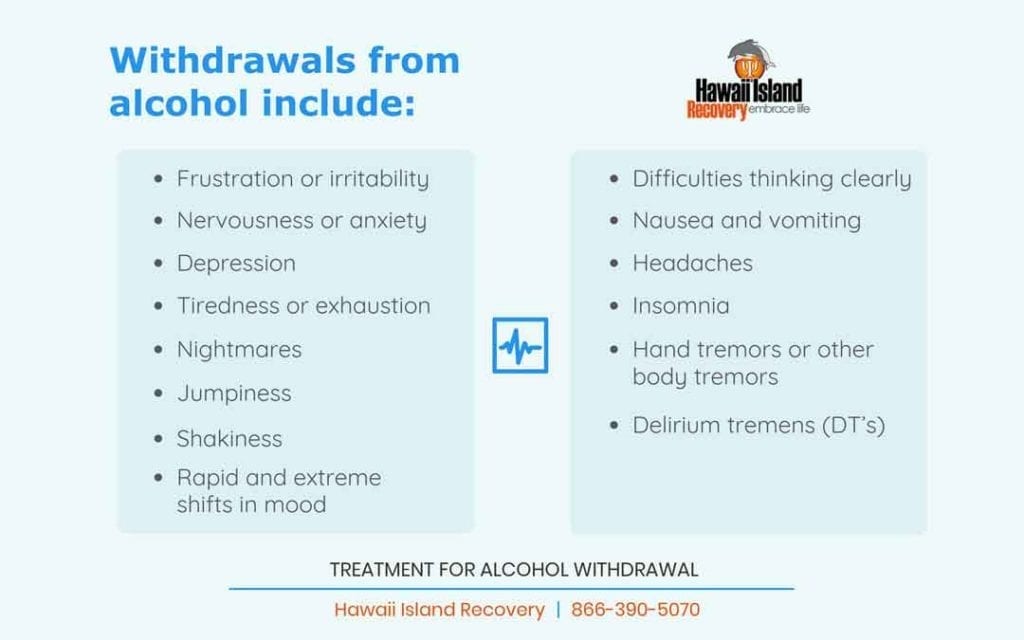 Finding Treatment for Alcohol Withdrawal
The symptoms of alcohol withdrawal range from minor to severe depending on how much and how often the person drank. Someone who drank for 30 years will have a more severe reaction to quitting than someone who drank for only a few. There is no exact way to predict how serious their symptoms will be, though.
Since alcohol withdrawal symptoms are often unpredictable, seeking treatment before quitting is the safest option. Detox centers staff doctors and nurses qualified to treat alcohol withdrawal symptoms. Although they cannot completely take them away, they can relieve some of the discomfort during the process.
Hawaii Island Recovery offers detox services to those looking to get sober. We first help you through the detox process then move you into the next level of care necessary for you.
If you're interested in learning more about the treatment paths available at our facility, give us a call at
Take the first step to free yourself from the chains of alcohol abuse!