Top 10 Tips to Stay Sober During the Christmas Holidays
Use a few of these ideas to stay clean and sober this holiday season.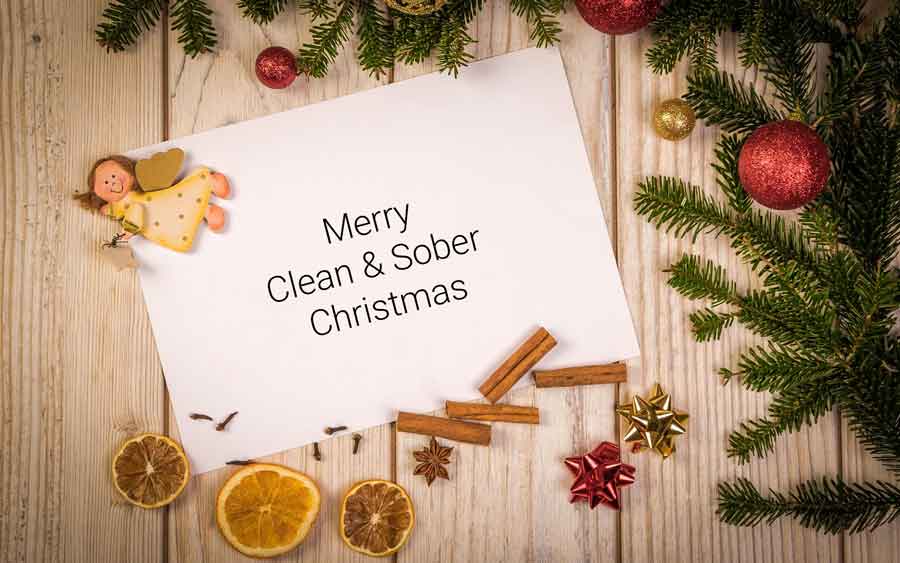 The Christmas holiday season can be a trying time for those who are trying to keep clean and sober. Even many of those with many years of sobriety have a difficult time during the hustle, bustle and stress of the holiday season. Whether we choose to acknowledge it or not, it seems like alcohol goes hand in hand with holiday social gatherings such as company parties and family get togethers. In short, it can be next to impossible to avoid alcohol
Since you are aware that drinking is seemingly engrained in the holiday season and holiday socializing, it is a good idea to create a rock-solid plan to protect your sobriety—and your sanity. It is absolutely crucial to plan ahead before you go to a party or event, so you don't find yourself caught off-guard and become vulnerable to relapse.
In order to help you achieve this goal, we compiled a list of the 10 bets tips to stay sober during the Christmas holidays. Whether you use one, a few, or all of them, be sure you take the time have a plan in place so you don't have to worry about safeguarding your sobriety.
1. CREATE AN "ESCAPE PLAN."
No matter how strong your recovery is, there will be moments during a gathering where you will being to feel uncomfortable and anxious due to the drinking that is going on around you. In order to minimize those feelings, it is important to come up with an "escape plan". Of all the tips presented in this article, this might be the most important. An escape plan simply means coming up with a subtle way to excuse yourself when you feel you need to leave.
This can include explanations such as "I have another event to go to" or "I need to drive someone home". It doesn't have to be elaborate, but it is important to make your exit if you feeling uncomfortable to a considerable degree.
2. ALWAYS DRIVE YOURSELF IF POSSIBLE.
Another helpful tip in staying sober during the holidays is to drive yourself to an event whenever it is possible. When you drive yourself, it easier for you to leave when you need to and keeps you from having to wait around on someone else. Driving yourself gives you the built-in excuse of not drinking because you are driving. Additionally, driving yourself to a holiday event has the additional benefit of becoming a designated driver to those who may had too much to drink and need a safe ride home.
3. IF YOU CAN'T DRIVE YOURSELF, HAVE A RIDE ON HAND.
There may be times where you may be unable to drive yourself to a holiday gathering. If you're in a position where you aren't able to drive yourself, it is important to set up a safe ride option. Your "safe ride" should be someone who supports your sobriety and will be able to pick you up as soon as you call. This person can be a family member, friend, or someone in your recovery group. Additionally, it would be a good idea to download the Uber or Lyft app to your phone if you can't step up other arrangments.
4. BRING YOUR OWN DRINKS WITH YOU.
Another way to help safeguard your sobriety during the holiday is by bringing your own beverages to an event or gathering. Whether it is sparkling cider, mineral water or other non-alcoholic beverage, you can bring enough to share with others or keep a small stock of your own beverages to make sure you don't run out. If there happens to be a bar at the event, ask the bartender if they know how to make non-alcoholic cocktails (often called mocktails). Surprisingly, there are many mocktails that can be created that taste great and look like regular alcoholic beverages.
When you bring your own beverages, it's easier to decline the offer of a drink and stay sober during the Christmas holidays when you already have something you enjoy. Plus, people are less likely to offer you a drink if you already have one in your hand!
5. BUILD A LIST OF PEOPLE TO CALL.
Before you attend an event, be sure to put together a list of people you can step out and call while at the event. Let a few friends know ahead of time where you will be and that they might need to expect a phone call from you during that time. If you find yourself tempted, step out for a few minutes and call another sober person who understands where you're coming from. Having those numbers and people at the ready can be a difference maker in helping you calm down and keeping yourself together.
6. INVITE A SOBER FRIEND TO COME WITH YOU.
An easy way to stay sober during holiday gatherings is to bring a sober supportive friend. It's easier to stay sober when you have another recovering person with you. While you can bring someone, who is in recovery to a party, you can bring a family member or friend who is fully supportive of your sobriety. With these people in your corner, you will feel less pressured to drink. These support people provide a great level of comfort and security.
7. UNDERSTAND THAT IT'S OKAY TO LEAVE WHEN YOU NEED TO.
In order to stay sober during the Christmas holidays, you must realize that it's okay to leave when you need to. People who truly know and care about you would rather you leave early than relapse. Don't force yourself to overstay your own welcome. You're allowed to leave when you need to. If you find yourself leaving a party abruptly, be sure to call or email your hosts the next day to let them know what happened. More often than not, they will be understanding.
8. HAVE AN ALCOHOL-FREE GET TOGETHER WITH A GROUP OF SOBER FRIENDS.
Is the thought of going to a holiday party or gathering making you too anxious? Throw your own party! Invite a group of friends over for dinner or a game night during the holidays. Whether it is family, friends or co-workers, these type of parties reinforce the point that you don't need to drink to have a good time. With so many parties centered around alcohol, having a sober event is a welcome change of pace. All of your friends—whether they are in recovery or not–will appreciate it as well!
9. GO TO A 12-STEP MEETING.
If you are planning on going to holiday functions, it is highly advisable to hit extra 12-step meetings. Tay to go to a couple before the event as well as after. In many cities, many recovery clubs such as Alano offer marathon meetings during the holiday season. Marathon meetings usually take place every hour, on the hour, sometimes even for 24 hours straight. 12-step meetings are a free place that guarantee you the opportunity to spend some time with other sober people. Some clubs even provide meals on holidays for those who don't have a place to eat with their family.
10. REMEMBER THAT YOU CAN POLITELY SAY "NO."
Don't forget that "No" is a complete sentence. When you are in recovery, you have the right to turn down invitations to social events. If you feel that an event threatens your recovery, put yourself first and say no. Remember that you don't have to go to something if you don't want to. If it's going to jeopardize your ability to stay sober during the Christmas holidays, it's best to politely decline and find something else to do.
FINDING HELP TO STAY SOBER DURING THE CHRISTMAS HOLIDAYS
Some people find themselves needing to attend alcoholism and addiction treatment during the holidays. While it might not be the most ideal situation to spend this time of year away from your family, it may be the best decision you make.
Addiction and alcoholism steals people away from their family all year long. Sacrificing one year of holidays for a lifetime of presence is a fair trade in the end.
If you need help finding an addiction treatment center to stay sober during the Christmas holidays.
Call Hawaii Island Recovery 24/7