Everything You Need to Know About Xanax Addiction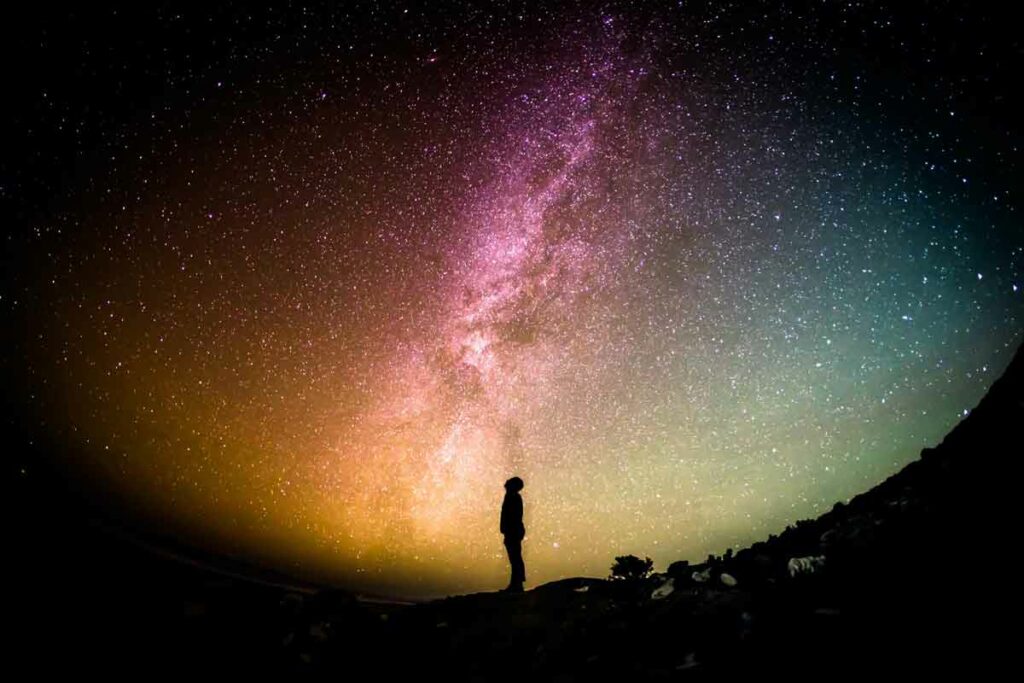 At first, Xanax may seem like a miracle cure—exactly what you or your loved one needs to cure anxiety, insomnia, or another disorder. The sedative-induced calm is a welcome relief from the stress of recent months or even years.
Over time, however, the miracle cure no longer brings freedom. Instead, as you or your loved one becomes dependent on the drug, it starts to seem like a new type of prison. What happened? Is this dangerous? And is a healthy future, free of prescription medication, really possible?
Read on to have your questions answered and learn everything you need to know about Xanax addiction.
What is Xanax?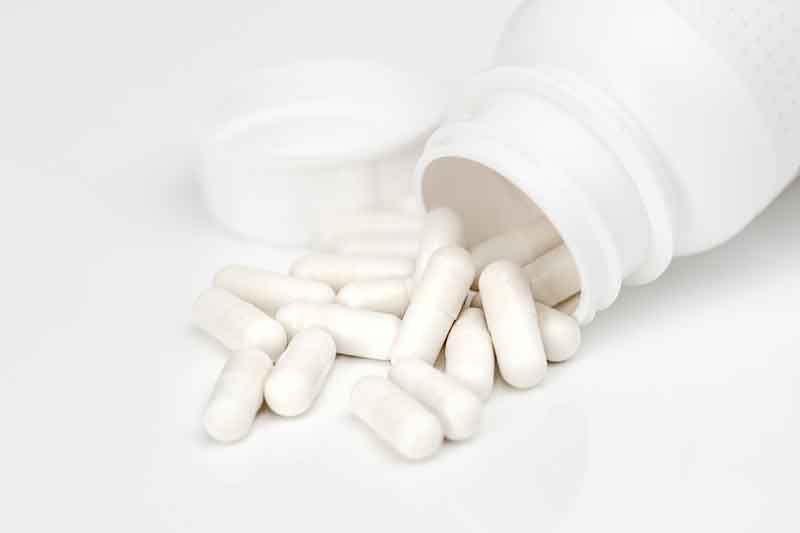 Xanax is a prescription medication used to treat anxiety disorders. It's one of the most common anti-anxiety drugs prescribed in the United States and it's also one of the most abused. Xanax is classified as a benzodiazepine, part of the larger group of Central Nervous System (CNS) depressants.
Recreational use has grown over the past decade aided by pop culture's glorification of Xanax and other benzodiazepines. These prescription medications are highly addictive and dangerous. Benzodiazepine addiction is a serious problem with rates of misuse holding steady during the past five years.
Almost 5 million people ages 12 and older in the United States reported abusing Xanax in the past year. Unfortunately, misuse can quickly turn into an addiction. If you or a loved one struggle with an addiction problem, Xanax rehabilitation is available.
A Definition of Xanax
Xanax is the brand name of the medication alprazolam. It's a benzodiazepine medication, a sedative-hypnotic drug that suppresses the CNS. Clinicians most often use it to treat anxiety but it also helps manage panic disorders, stress reactions, and sleep disorders. Some other drugs in the benzodiazepine class include:
Diazepam (Valium)
Clonazepam (Klonopin)
Triazolam (Halcion)
Estazolam (Prosom)
Xanax is one of the most commonly prescribed medications when treating patients with anxiety. It interacts with the CNS and slows brain activity to relax a person's racing thoughts. This causes drowsy, calm effects that make it an effective medication for anxiety and sleep disorders.
These effects also make it a popular drug of choice for recreational use. Users enjoy the calm euphoria that comes with heavy benzodiazepine use. This is why doctors are encouraged to use Xanax as a short-term part of treatment.
Much like opioids, benzodiazepines are a highly addictive drug. Long-term use leads to dependence and puts patients at risk of developing a benzodiazepine use disorder. Dependence and abuse leave people susceptible to experiencing withdrawal symptoms when quitting use. Benzodiazepine withdrawal symptoms range from mild to severe.
What are the dangers of Xanax addiction?
Even without addiction, there are several dangerous side effects of Xanax, including disorientation, slurred speech, loss of coordination, memory problems, anxiety, feelings of sadness or emptiness, loss of interest or pleasure, trouble performing routine tasks, and depression.
Those who become addicted to Xanax often become so consumed with getting their medication that they let all other responsibilities, such as work, school, and family, fall to the wayside.
Addicts who increase their dosage or combine it with other drugs or alcohol put themselves at a higher risk of overdose, which can be fatal. The CDC reported that alprazolam (Xanax) was one of the top 10 drugs associated with overdose deaths in the US from 2010 to 2014.

Other Names for Xanax
Xanax has many street names or slang terms used to refer to it. They're a popular drug in pop culture with many artists referencing the drug in their music and some even going as far as using it as part of their stage name.
The drug's popularity has led to a wide range of slang names and street terms. Some other names for Xanax include:
Xan/Xans
Xannies
Bars
Z-Bars
Xanbars/Zanbars
Handlebars
Blue footballs
White boys
Bicycle parts
Benzos (short for benzodiazepines)
"Bars," one of the most common terms used to refer to Xanax, comes from the shape of the medication. Brand-name Xanax is shaped into long, thin white bars split into four sections. This isn't the only form that the medication comes in, though. There are other manufacturers that produce a few dozen other types of alprazolam tablets, each with a different appearance.
What is Xanax Made Of?
Xanax is the brand name of the medication made from a drug called alprazolam. The chemical structure consists of a benzene ring and a diazepine ring, along with a triazole ring. There are a few different types of benzodiazepines on the market.
Alprazolam medications come in two types of tablet forms: regular release and extended-release. Regular release tablets come in 0.25 mg, 0.5 mg, 1 mg, and 2 mg. The extended-release tablets come in different dosages: 0.5 mg, 1 mg, 2 mg, and 3 mg. Some manufacturers make alprazolam in liquid form, too.
Brand name Xanax only comes in tablet form. They're the long, white bars most often associated with benzodiazepines. You may hear rappers referring to "bars" in their music; they're referring to the brand-name form of alprazolam.
Chemistry of Xanax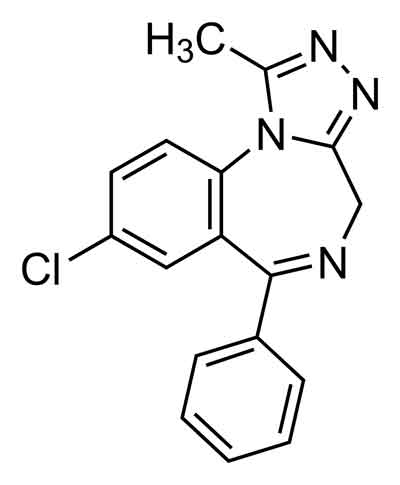 Xanax, or alprazolam, is a powerful and potent anti-anxiety medication. It is a highly effective drug which makes it one of the most prescribed medications when treating anxiety disorders. The drug works by increasing activity at gamma-aminobutyric acid (GABA) receptors. GABA neurotransmitters limit neural activity which slows the brain and CNS.
The chemistry of Xanax is what makes it such an effective treatment for anxiety, panic disorders, and other stress-related conditions. Limiting neural activity keeps patients calm and relaxed both physically and psychologically.
At the same time, the chemistry of Xanax is also what makes it such an addictive drug. GABA neurons quickly adapt to its presence and soon require more to achieve the same limiting effect. Xanax is such a strong medication that people develop a dependence on it, whether or not they struggle with substance abuse.
Once GABA receptors adapt to Xanax, they are underactive once the person stops using it. This leads to withdrawal symptoms that develop as soon as a few days or hours after stopping use. These symptoms range from moderate to severe depending on dosage and the length of time they were used.
Is Xanax Legal?
Xanax is legal under certain circumstances. It is legal for use only as directed with a legitimate prescription from your physician or psychiatrist. It's not legal to use more than you are prescribed, though. People with a history of addictive behaviors may struggle to adhere to the required dose.
It's classified as a controlled substance by the United States Drug Enforcement Administration (DEA). Xanax is a Schedule IV drug, categorized alongside other prescription medications like Ambien, Ativan, Valium, and Soma. It can be used only for medical or psychiatric purposes.
Xanax is not legal when taken without a prescription. Even if you're using it to manage a legitimate anxiety disorder, it's considered self-medication. If you do not have a prescription it is not legal to take Xanax. Recreational use is also illegal, whether it's an authentic or counterfeit product.
It's also illegal to distribute a Xanax prescription. For example, if you have a prescription from your physician or psychiatrist, you cannot fill it and then give it or sell it to someone else. This is considered distribution of narcotics and comes with a heavy penalty.
3 Myths About Xanax
There are many different myths about Xanax. People repeat things they hear that aren't true and spread misinformation that can potentially be dangerous. The following are only a few of the many myths about Xanax you may have heard.
1. Xanax is not an addictive drug
Xanax is very much an addictive drug. It's actually one of the most addictive prescription medications available. There is such a high potential for dependence on Xanax that it's recommended only as a short-term use medication.
2. Xanax is safe to use as long as you have a prescription
Xanax is safer for use when you have a prescription and are under ongoing supervision with your physician or psychiatrist. Saying it's completely safe to use because you have a prescription is a myth, though. Using any amount of Xanax comes with at least some risk for dependence and possible long-term effects.
3. Xanax is the only treatment for anxiety
Some believe medication is the only way to treat anxiety but this is a myth. The truth is effective anxiety treatment requires a combination of approaches. There's no one-size-fits-all approach to managing anxiety disorders and they require an individualized approach.
Facts About Xanax
To combat the myths about Xanax it's also important to know some facts about Xanax.
Xanax is the most commonly prescribed psychotropic medication
Xanax is not only a household name because of its recreational use and pop culture references, it sees much of its use for medical purposes, too. In fact, pharmacies dispensed more than 48 million Xanax prescriptions in 2013 alone.
Xanax addiction is a serious problem
Xanax specifically, and benzodiazepines in general, are serious substances. Xanax addiction is not an easy addiction to overcome. Withdrawals are intense and cause intense cravings that users often succumb to. Treating Xanax addiction usually requires a stay in a treatment facility.
Mixing Xanax with alcohol or other drugs can lead to fatal consequences
Xanax is dangerous enough on its own but mixing it with alcohol or other drugs can be deadly. Since it's a CNS depressant, the medication slows functions like heart rate and respiration. Mixing it with other depressant substances can cause you to stop breathing or other dangerous and potentially fatal effects.
What are the signs of Xanax overdose?
According to WebMD, the signs of Xanax overdose may vary but can include loss of balance, confusion, slowed heart rate, difficulty breathing, extreme drowsiness, or coma. Xanax overdose can be fatal.
If your loved one is exhibiting signs of a Xanax overdose, call 911 for medical help right away.
What are the signs of Xanax withdrawal?
Xanax addicts have developed a physical and psychological dependence on the drug. Efforts to quit all medication immediately can spark a host of dangerous and painful withdrawal symptoms, including convulsions, seizures, mood swings, mania, psychosis, and paranoia.
Xanax withdrawal can be fatal, especially if a user attempts to undergo this process on their own. Self-treatment is strongly discouraged, as medical professionals can help make detox safer and more comfortable.
How is Xanax addiction treated?
Xanax should never be quit "cold turkey." Instead, users need a medically supervised detox to ensure a safe transition with as few withdrawal symptoms as possible. Here at Hawaiian Island Recovery, we slowly wean Xanax addicts off of their medication in order to minimize discomfort and protect their health and safety.
Detox is just the beginning of an addict's journey to health and sobriety. Next, a professional treatment plan is put into place to address any underlying issues that may have contributed to the addiction.
Dual diagnosis can be extremely helpful for those who first turned to Xanax to treat anxiety or depression, as this therapy can address both the addiction and the initial disorder. Many Xanax users find CBT, equine-assisted therapy, and wild dolphin therapy to also be helpful in their journey to recovery.
An inpatient stays in a treatment center allows Xanax users to gain the tools and confidence necessary for a life of sobriety after addiction. Here at HIR, our team of licensed professionals provides medically supervised detox, dual diagnosis, experiential therapy, and more.
To learn more about the experience a Xanax user can expect at HIR, watch this short video testimonial from our former resident Shannon. While in rehab, Shannon was weaned off of Xanax and developed not only freedom from addiction but also a renewed confidence and joy for life.
We can help you begin the journey to freedom.